To read a book by Philip Stead is to touch a little bit of magic with every flip of the page. If you know children's literature, you know that his name is synonymous with brilliance, beauty, and deep emotional resonance. There is simply no understating his contribution to the wondrous world of picture books.
There are many reasons to champion Stead's work, but one of the things I continuously come back to is the recurring theme of empathy that runs so elegantly through his stories. Stead always conveys this sentiment masterfully, utilizing a unique cast of characters who care for one another tenderly and recognize each others' needs at a particular moment in time. His prose is rich yet unadorned, his illustrations are emotional, and the messages that stick with his reader long after his books are closed are unsurpassed.
Samson in the Snow is the latest example of this approach. Once again, Stead has given a gift to children, parents, and educators everywhere, a remarkable story that lends itself to a variety of discussion topics, including the importance of kindness and putting yourself in others' shoes. Read on to learn more about how empathy is weaved through the pages of Samson, and how Stead's other works incorporate this significant and timely theme as well.
Samson in the Snow
by Philip Stead
Roaring Brook Press
Samson in the Snow is a quiet tale centered around Samson, a giant woolly mammoth. Upon first snowfall, Samson worries about his friend, a small red bird, and fears she must be terribly cold with the sudden change of weather. Samson thus sets off to find her to ensure that she stays warm despite the blanket of snow that fell overnight. Use this title to teach your kids about how small acts of kindness can move mountains and how gracious acts of empathy can change more than just the person on the receiving end of that action.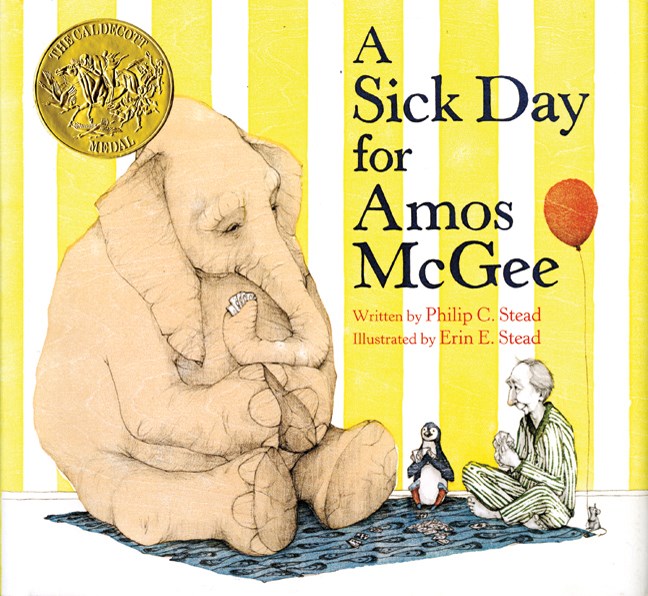 A Sick Day for Amos McGee
by Philip Stead; illustrated by Erin Stead
Roaring Brook Press
A Sick Day for Amos McGee is another exquisite and heartwarming story of friendship that tells the story of Amos, a zookeeper, who spends time everyday with all of his animal friends at the zoo. Amos delights in being a friend to each of the animals, and when he wakes up one morning too sick to get to the zoo, his friends decide it is time to return the favor. This book portrays the beauty of friendship—understanding each others' unique needs, caring for each other, and providing support in ways that only true friends can. There is no better story to help children comprehend the value of identifying with another's feelings and being able to channel that recognition into generous, helpful behaviors.
A Home for Bird
by Philip Stead
Roaring Brook Press
A Home For Bird begins when Bird is found lost and alone by Vernon, a curious toad, who comes to believe that the quiet Bird will only find his voice when they also finds his home. What follows is an exceptional portrayal of empathy, as Vernon journeys with Bird to find Bird's home, solely for Bird's sake and simply because he believes the silent Bird is lonely and sad. Vernon seeks nothing in return: no snack, no gifts, no tangible object. I love how this book presents the concept of friendship and giving in such a pure and tender manner. This is a beautiful portrayal of selflessness.
Lenny and Lucy
by Philip C. Stead; illustrated by Erin E. Stead
Roaring Brook Press

Lenny and Lucy is the story of a young boy, Peter, who moves out into the woods with his family. Peter is not a fan of the ominous trees by his new house, and he is terrified of the unknown creatures he believes may be hiding in the woods. So Peter creates Lenny, a watchman, out of blankets and pillows, to guard the bridge and their home. And then, despite his continued fears, Peter creates Lucy, another watchman, simply because he worries that Lenny may be lonely. Though this story primarily focuses on imagination, resilience, and coping with loss, the theme of empathy nevertheless stands out. Despite his own worries, Peter recognizes that his new friend Lenny may feel isolated and thus takes positive, active steps to remedy Lenny's solitude.
Bear Has a Story to Tell
by Philip C. Stead; illustrated by Erin E. Stead
Roaring Brook Press
Yet another beautiful story about selflessness and helping others. In Bear Has a Story to Tell, Bear is eager to tell his friends a story before he settles down to hibernate for the long winter. But, instead of being excited to hear his story, Bear's friends are worried about their own preparations for the season. Instead of dwelling on his own desires, Bear selflessly helps each of his friends get ready for the cold weather, even at the sacrifice of never getting to share his tale. This is another heart-warming story highlighting the value in recognizing the needs of others and putting those needs before your own. It perfectly conveys the significance of reciprocity that is so important to friendship.
Want to read more about Samson? Check out our ALL THE WONDERS of Samson in the Snow post, featuring an interview with author-illustrator Philip Stead, an exploration of empathy in Philip Stead's picture books, and a craft that will help you carry your own Samson with you as you journey into winter.