It's 8:25pm, but our before-bed read-aloud time has been interrupted by uncontrollable nonsense.
Screams of, "Bring me the banana phone, I've got to call Mr. Nuggy!" echo through my house.
My ten-year-old crams herself into the linen cupboard and shouts in a gravelly voice, "Pretend I'm Mrs. Gobble Gracker and you don't know I'm in here."
I put a bookmark in the middle of our chapter book, set it on the bedside table, and join in the hysterical pile of laughing, pajama-clad bodies and bananas in my upstairs hallway.
(I may have phrased that wrong. The bananas were NOT in pajamas. But the rest of the tale is accurate.)
This is the fun-for-all-ages, repeat-your-favorite-lines, act-out-your-favorite-scene, get-too-jazzed-up-to-go-to-sleep hilarity that ensues when a book is as wacky and weird and imagination-filled as Dory Fantasmagory.
Ditto for the sequels.
Your kids are going to need the sequels.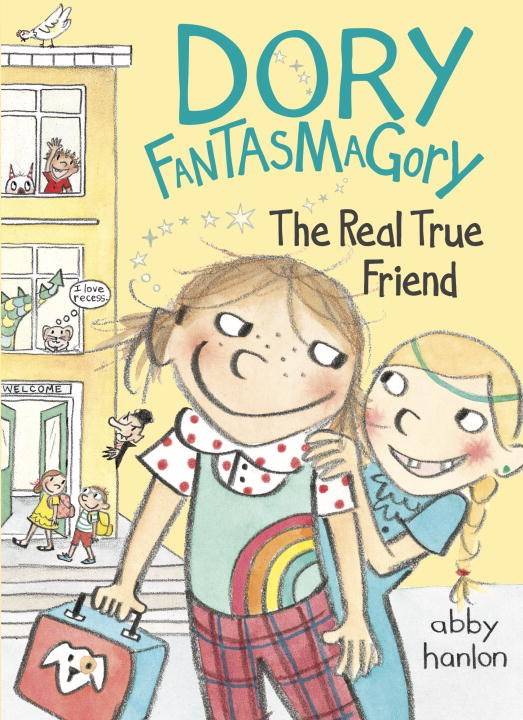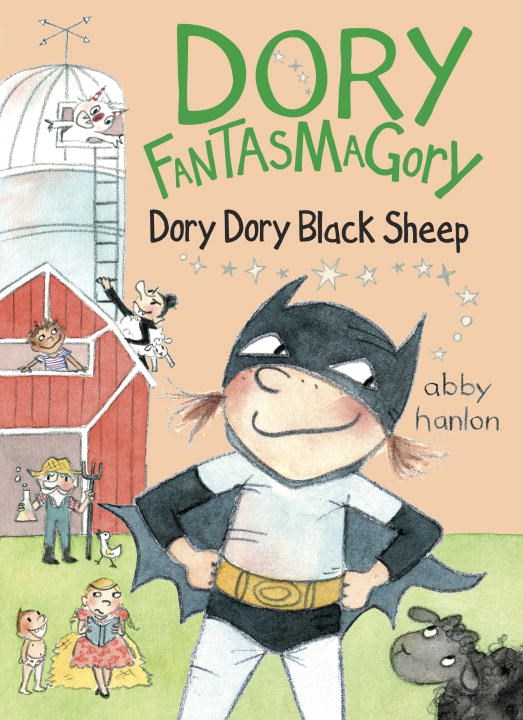 In Dory we meet a six-year-old who prefers inside-out nightgowns and too-small Halloween costumes to any normal clothing. We find a kid who swirls the lines of real life and imagination "like a chocolate and vanilla ice cream cone." We enter a home filled with typical siblings, typical parents, and anything-but-typical imaginary friends, including a space sheep, a laundry monster, and a fairy "godmother" who looks an awful lot like a garden gnome.
---
---
In short, author/illustrator Abby Hanlon has sifted through her years of experience teaching first graders and distilled them into a super-concentrated, super-loveable, super-imaginative character destined to become a classic.
Do I gush? I might. But it's a justifiable gushing. No character written in recent years has struck me as so uninhibited, so creative, and yet so very, very real as Dory Fantasmagory.
There is something irresistible about a character with a wild imagination, and even more so about the characters whose imagination runs so wild it gets them into hot water. Why do we love Eloise so much? Or Ramona Quimby? Or Anne of Green Gables? Why does the appeal of Where the Wild Things Are never seem to fade?
---
---
As children, these characters spoke to our souls—to the part of us that fell so deep into imaginative life that the line between real and make-believe blurred, to the part of us that didn't have room to worry about consequences because it was too busy running rampant in fantasy. As adults, we remember our connection to these characters fondly because they made us dream bigger and laugh harder and feel deeper than anyone we encountered in real life.
I truly believe that my kids will have that kind of connection to Abby Hanlon's Dory. They can relate to her struggles: getting along with siblings, learning to read, making new friends, frightening yourself with wild imaginings. They can relate to her favorite ways to play: pretending to be a dog, bouncing balls off ceilings, declaring the floor hot lava, mixing up magic potions. I cannot tell you how many times my kids say, "Hey, I do that, too!" or, "That's just what YOU used to do!" as we read the Dory Fantasmagory books. Banana phones are just the beginning!
---
---
Characters like Dory, Anne, Ramona and Max share common experiences with us, but manage to make life bigger, wilder, funnier, scarier, and more amazing through imagination. Children both relate to and admire these characters. And so, children not only remember them, they want to emulate them.
When we read about and celebrate these imaginative characters, we encourage our children to embrace their creative side. Our kids become more imaginative, more free to believe wild and wonderful things. They weave stories and create drama and build lives beyond the reach of the ordinary. They become today's joyful dreamers and tomorrow's daring innovators.
That, I think, is one of the best gifts we can give to our children. It is a gift best bestowed through reading and play. And it is a gift that the Dory Fantasmagory books deliver in spades.
Be sure to check out our ALL THE WONDERS of Dory Fantasmagory post for more Dory, including a behind-the-scenes tour by author-illustrator Abby Hanlon, a sneak peek at the artwork, and a look at how Dory has touched all our hearts around the world.