"Stories have to be told or they die, and when they die, we can't remember who we are or why we're here."
—Sue Monk Kidd, The Secret Life of Bees
As the world gets busier, louder, faster-paced, it often seems there is little time to gather and to listen. But gathering and listening are two of the very special things that build community, preserve culture, and make space for human connection. In researching and creating The Storyteller, Evan Turk dug deep into the Moroccan storytelling tradition, a tradition where the hlaykia, or storyteller, and the halka (literally circle or ring) of the audience are equally important. It is an important role to tell the tale—but equally important is listening and sharing the tale with others.
Around the world, in hundreds of countries, across thousands of years, oral storytelling has played a key role in passing on cultural values, important events, lessons and mysteries and sadness and joy. It has drawn people together so that, by sharing story, they can remember who they are and where they come from.
And yet, in many places, the traditions are dwindling. Interest in storytelling is lost to television and mobile phones. People are too busy or too far apart to gather and listen. Not only are stories forgotten, so is the feeling of belonging and identity that comes with shared story.
And so, organizations and individuals around the world are energizing, finding old ways and new to preserve and protect the traditions and benefits of storytelling. We're introducing you to just a few, each with a distinct mission and each paired with a suggestion you can use to engage young readers in further discussion and discovery.
Syria's al-Hakawati Project
Cultural Heritage Without Borders
Cultural Heritage Without Borders is a non-profit organization based in Sweden with a mission to promote and preserve cultural heritage around the world. In 2014, as Syria struggled with civil war, displacement, poverty and destruction, CHWB (Sweden) partnered with the Arab Education Forum (Jordan), as well as the Arab Resource Collective for Popular Arts (Lebanon) and other regional groups to create the Al-Hakawati project. Its goal: to preserve, spread and celebrate the traditional Syrian art of storytelling, whether the stories be oft-repeated tales of old or new and intimate personal struggles of the country's people.
Seven trained researchers collected hundreds of stories from Syrian refugee communities in Lebanon and Syria, recording them on video. The storytellers ranged from young children, rushing to their elders for reminders of the old stories, to middle-aged refugees, reluctant to share their experiences with strangers, and yet driven to have their struggles heard and preserved.
In collaboration with other agencies, the Al-Hakawati project hosted live theater events sharing Syrian oral storytelling. With so much turmoil in Syria, those involved in the project felt it was important to preserve the stories and the tradition of storytelling, as a way to link generations and create solidarity across ethnic, geographic, and religious boundaries.
To expand the conversation with young readers, talk about the ways a familiar story can make you feel safe in a strange place, and how telling stories together brings a little bit of home with you, wherever you go.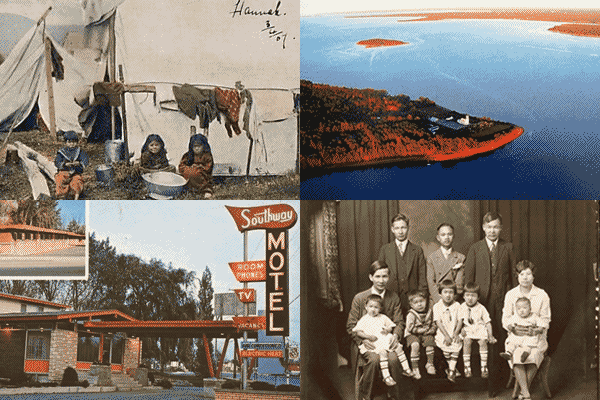 Centre for Oral History and Digital Storytelling at Concordia University
The Lost Stories project brings together historians, members of the public, artists and film makers. Together, the group chooses little-known stories from the country's past and transforms then into works of public art. Along the way, filmmakers document both the history and the creation of the art. Project Director Ronald Rudin says, "At the heart of Lost Stories is the opportunity to see what happens when an artist has the challenge to transform a story into a physical object."
With the creation of its first public art and film, Lost Stories brought to life the story of Thomas Widd, a deaf man who founded the Mackay School for the Deaf, but whose historic contribution was all but lost when the school was named for a generous donor instead. Without oral history provided by a retired teacher from the school, Thomas Widd's great accomplishment and lasting gift to the deaf community would have been forgotten.
The team at Lost Stories has since created four more works of public art and accompanying films. all bringing light to forgotten moments in history that were only preserved in personal narratives. From Chinese immigrants to indigenous children, the project seeks to preserve and share the stories of the many cultural groups that call Canada home.
To expand the conversation with young readers, Rudin suggests telling students "to ask questions whenever anyone tells stories about the past. So when they see physical objects such as monuments, they should ask questions about how they ended up there and why they look the way they do." In the long term, Lost Stories encourages people to question representations of history and to build objects on their own about stories from the past.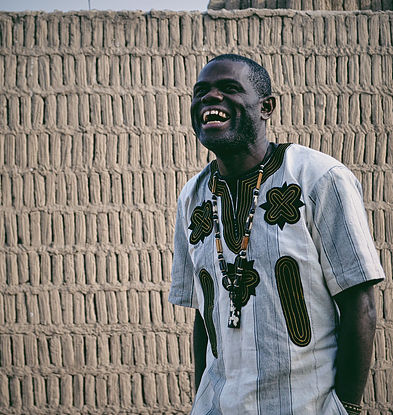 Usifu Jalloh and Maambena Fest
Usifu Jalloh was born in Sierra Leone, and though he left to pursue his education abroad, he never forgot his home, his family, or the stories that were part of everyday life. Now Usifu spends his time bringing the tradition of storytelling, blended with music, to school groups and audiences around the world. He is billed as "the Cowfoot Prince," a name from his most celebrated stories.
Usifu Jalloh uses story-telling techniques like call-and-response, repetition, and audience participation to not only keep audiences captivated, but to help them experience the traditions that made storytelling both entertainment and education for many hundreds of years. He also uses drums, instruments, and rhythms from the Sella culture of northern Sierra Leone to preserve and celebrate African music.
Usifu has used his success to give back to his native Sierra Leone, primarily through Maambena Fest. Maambena Fest is an annual festival celebrating African culture and promoting education and literacy. It takes place in the northern province of Sierra Leone and receives support from Usifu's charitable Aruna Jalloh Fund. Storytelling a a big part of the festival, as are both traditional and modern music.
To expand the conversation with young readers, talk about the links between music and story. You could discuss stories that children know primarily as songs, such as There Was an Old Lady Who Swallowed a Fly, or put drum beats to a favorite read-aloud.
The Jewish Women's Archive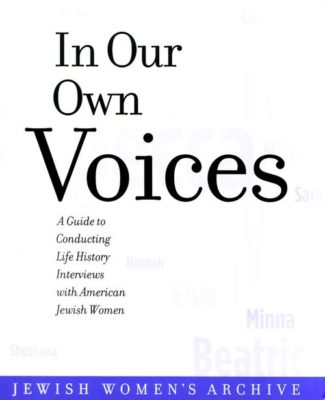 In Our Own Voices Project
Mikki Pugh, Director of Programs at JWA, says, "The Jewish Women's Archive believes in the power of oral storytelling to democratize history. We believe in enabling and inspiring people of different ages, genders, and backgrounds to record conversations and stories about the Jewish women in their lives and to share them with others." The program was founded in 1995, and has since become the largest online repository of information about Jewish women. The program is now expanding its mission to include men in the conversation, engage younger generations and encourage cross-generational sharing, and to harness the power of storytelling for social change.
The JWA is proud to give voice to two previously marginalized groups: women and Jewish people. Ms. Pugh is eloquent in expressing that oral story telling is an ideal way to focus on not just the famous or well known people and moments in history, but on the day to day subjects that truly create a culture. "[Oral storytelling] has the power to connect people across lines of gender, age, culture, and class, and can inspire social action. It is a way to help people actually talk to each other and hear about each other's experiences."
JWA provides online resources and in-person workshops to help individuals and groups capture the histories—ordinary and extraordinary—of Jewish women.
To expand the conversation with young readers, Ms. Pugh suggests discussing a quote from Rosa Sonneschein often used to open JWA workshops: "Not what has happened but what is recorded, makes history."
The Great Thanksgiving Listen
StoryCorps

Thanks to wide-reaching efforts and regular broadcasts on NPR stations, StoryCorps may be one of the best-known oral storytelling organizations in America. StoryCorps uses multiple methods to record personal histories, family interviews, and perspectives on the big and little events that make up history and modern life. Why such a big push to record the stories of everyday people? "…To remind one another of our shared humanity, to strengthen and build the connections between people, to teach the value of listening, and to weave into the fabric of our culture the understanding that everyone's story matters."
StoryCorps has grown to encompass many events and venues, including efforts to preserve the stories of the LGBTQ community, stories from September 11th, and stories of Latinos and Latinas in the United States. A great way for students to get involved with StoryCorps is through the 2nd annual Great Thanksgiving Listen.
The "Listen" encourages high school students to interview and record a conversation with an elder from their family over the Thanksgiving weekend, a traditional time for gathering and sharing stories. In 2015, over 50,500 individual stories were recorded and preserved in the first-ever Great Thanksgiving Listen.
To expand the conversation with young readers: StoryCorps provides a teacher's guide to help schools engage in the "Listen," but you don't need to participate as part of a class project. The StoryCorps App is available for free and allows you to customize your interview and submit it to StoryCorps. It will then be preserved in the American FolkLife Center at the Library of Congress and become an official part of American history.
---
Check out our ALL THE WONDERS of The Storyteller post for more on this beautiful tale, including an exploration of how author-illustrator Evan Turk began his storytelling journey, a survey of programs around the world working to preserve the traditions of storytelling, and a craft that will help you tell your own stories for years to come.