From the moment I saw the cover of Swatch: The Girl Who Loved Color, I was hooked. I found myself flipping through the pages quickly, carried forward by the story and illustrations as I watched a wild and empathetic child tame colors. The book actually went by so fast that the moment I finished it I flipped back to the front and started over again.
Did you also find yourself getting swept up in Swatch's world? It's no accident. In addition to being a color virtuoso, author and illustrator Julia Denos is also a master of movement.
---
---
Even if we didn't have the text, we would know this girl is wild. Her black hair flows in every direction, and her face is covered in rainbow streaks of paint. Bright pink brushstrokes usher us straight into the story, pulling our eyes from the left side of the book to the right. Denos seamlessly draws us into her book from the start as we ride a pink wave into Swatch's world.
The sweeping paint across the spread from left to right gently encourages readers to turn the page to continue the forward motion of the illustrations.
---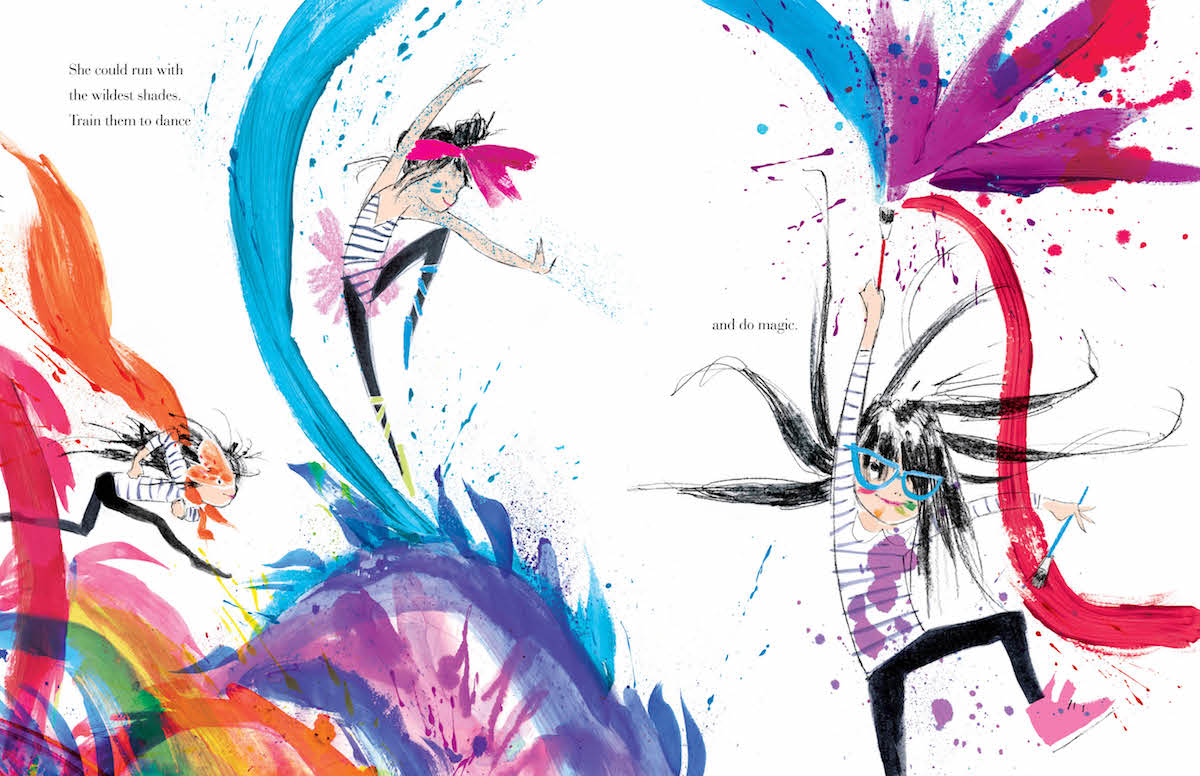 ---
Swatch literally dances from one page to the next, pushing and pulling colors from one side of the book to the other. Movement is a constant in Denos' illustrations, always sweeping us from left to right, always urging us and the story forward.
We get to see so many sides of Swatch throughout the book– superhero, ballerina, magician, cat owner–and like the colors around her, Swatch never stops moving.
---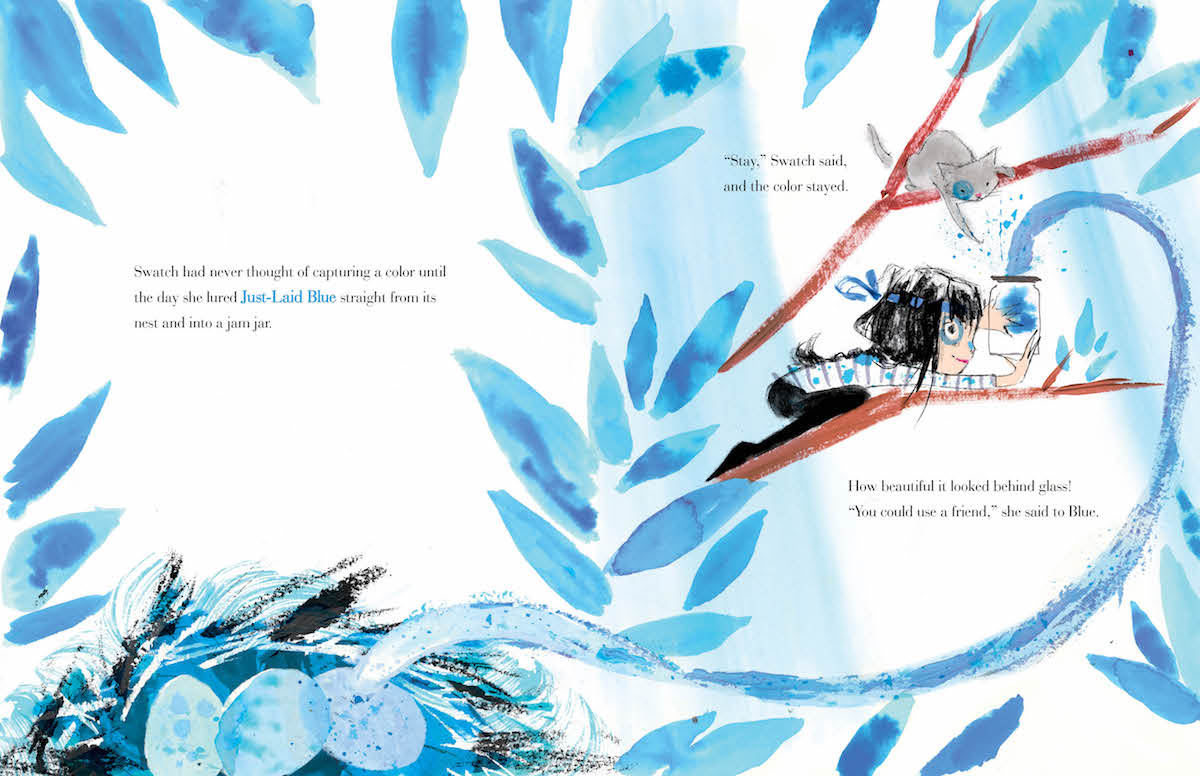 ---
She even climbs a tree to get the perfect blue!
---
---
Just when Swatch's room is full to bursting, the colors pull our gaze from left to right again, drawing us through a window and into the yard to look for Yellowest Yellow.
And then things come to an unexpected-but-welcome halt when Swatch decides to stop and listen.
---
---
It's a significant moment for our wild child as she gets on the ground to talk to Yellowest Yellow. We see Swatch stay still and take pause to consider what Yellowest Yellow might want. This small consideration adds a level of compassion to Swatch's character that we haven't seen before, and it's humbling to witness.
For the first time, Swatch has been tamed.
But of course, neither Swatch nor color can ever truly be tamed, and we can already see Yellowest Yellow pulling at the edges of the spread, the color beginning to escape the page. Thanks to her new perspective, Swatch does nothing to manipulate Yellowest Yellow, so as it beckons readers forward, it also beckons Swatch forward as well.
It's a fitting conclusion to Swatch's story that she should learn to work with colors rather than try to contain them, and it's no wonder that when color and Swatch work together they achieve their maximum potential.
Be sure to check out our ALL THE WONDERS of Swatch page for much more, including a podcast interview with Julia Denos, a behind-the-scenes look at the creation of Swatch, coloring sheets, a face paint guide, and an original Color Tamer game created by our team.