"Nothing is more indispensable than my hot glue gun"
---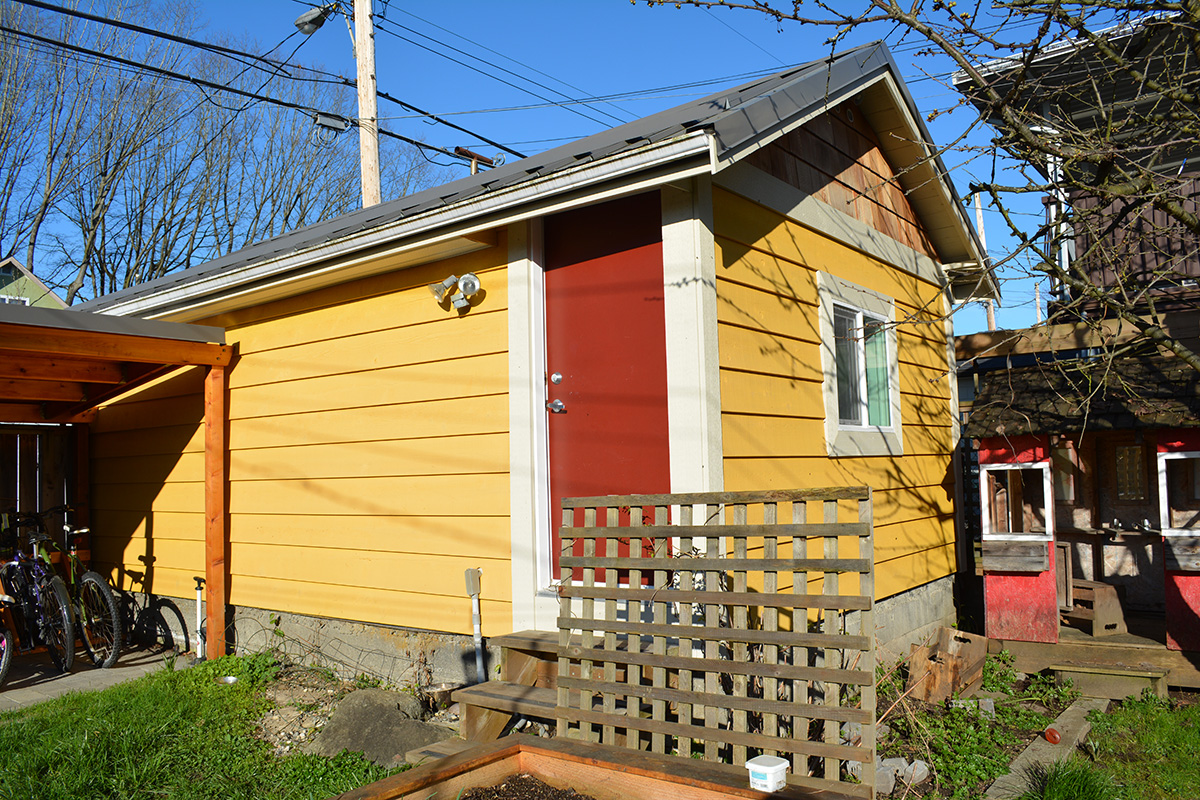 ---
HW: About five years ago, my wife and I renovated half of this old single car garage at the back of our property to create a working space for me out of earshot from crying newborns. I originally used the space for a home-based law practice before it became a studio for making children's books.
---
---
The space is quite small. It only measures about 12″ x 10″. I've had to use a lot of space vertically, like putting the printer on a stool above the scroll saw on the desk! The art on the wall is an incredible panoramic photograph of Vancouver from 1915, which my wife bought me one year for our anniversary.
---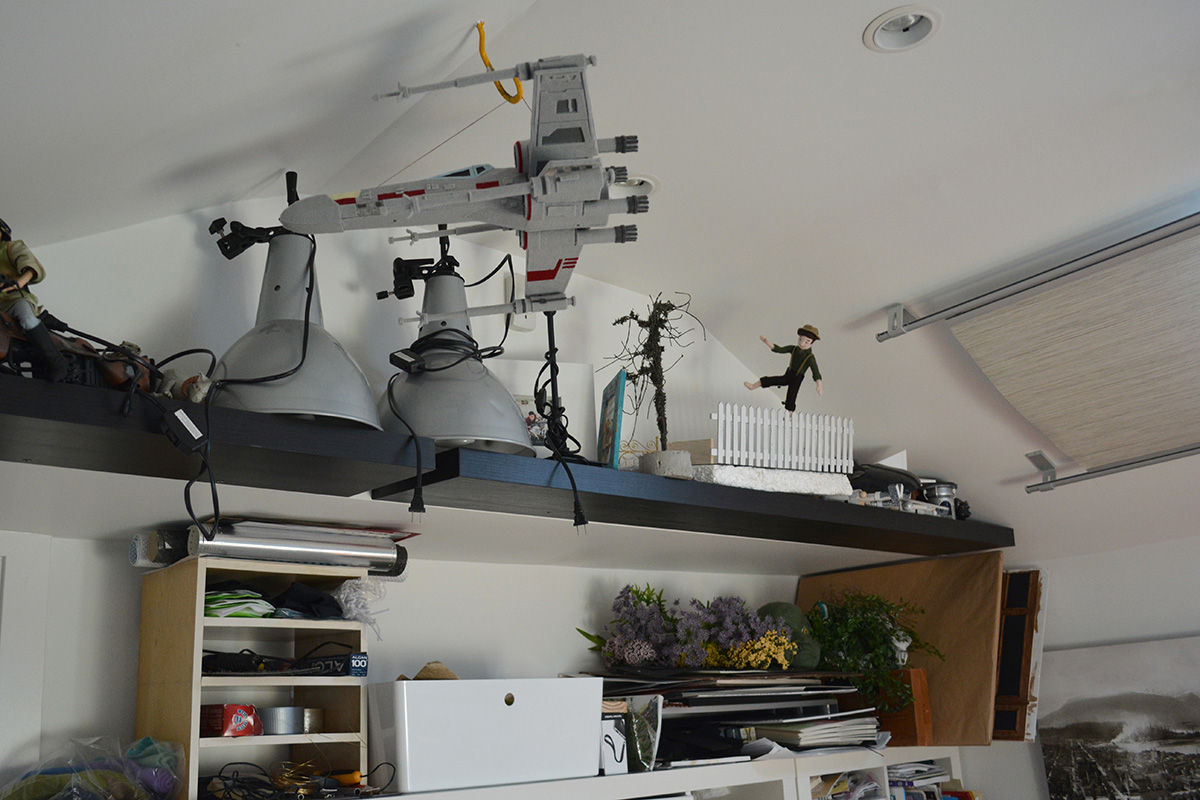 ---
​Looking up, you'll see stuff stored everywhere, including a cardboard-and-felt X-wing fighter and a needle-felted Tom Sawyer balancing on a fence.
---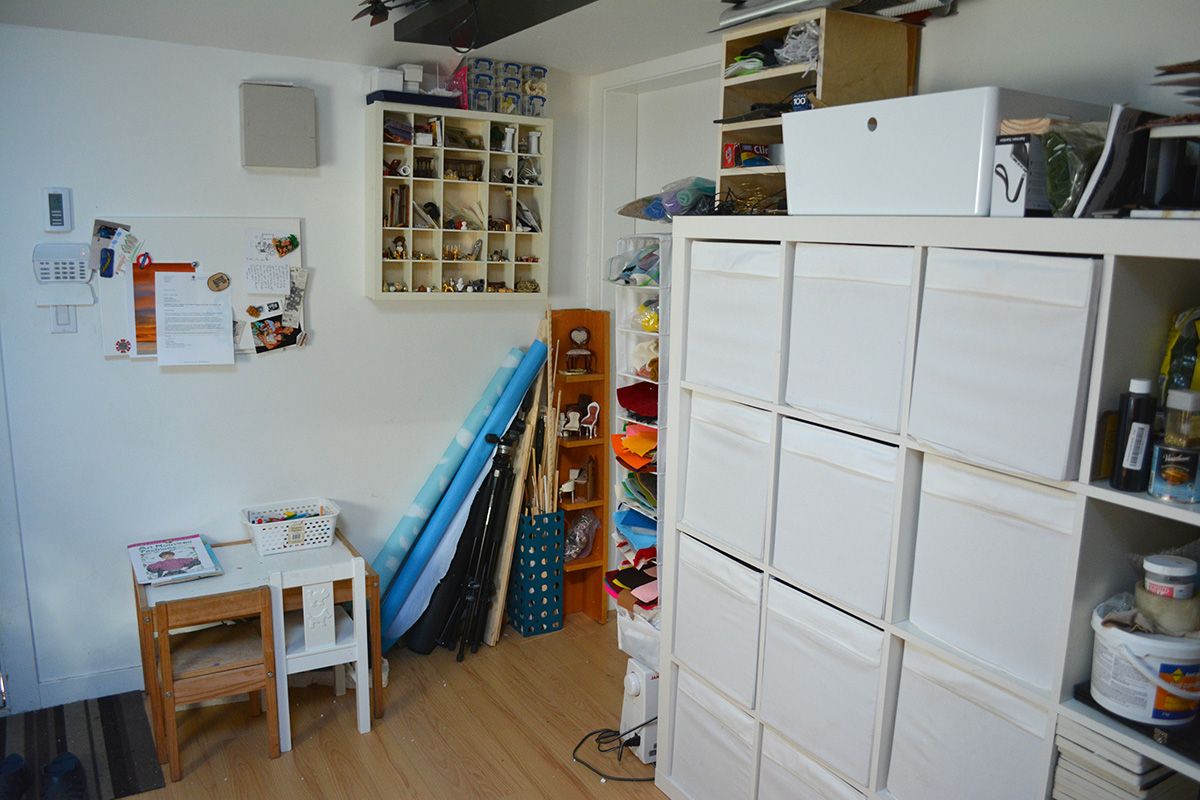 ---
Looking the other way in the space, you can see some of the raw materials I use to build figures and sets, including craft felt sheets (in an old shoe organizer) and wood moldings (in the square blue umbrella stand). There is also a curio cabinet of sorts on the wall containing various dollhouse props. The table and chairs are for my two kids when they need to hang out with daddy while he works.
---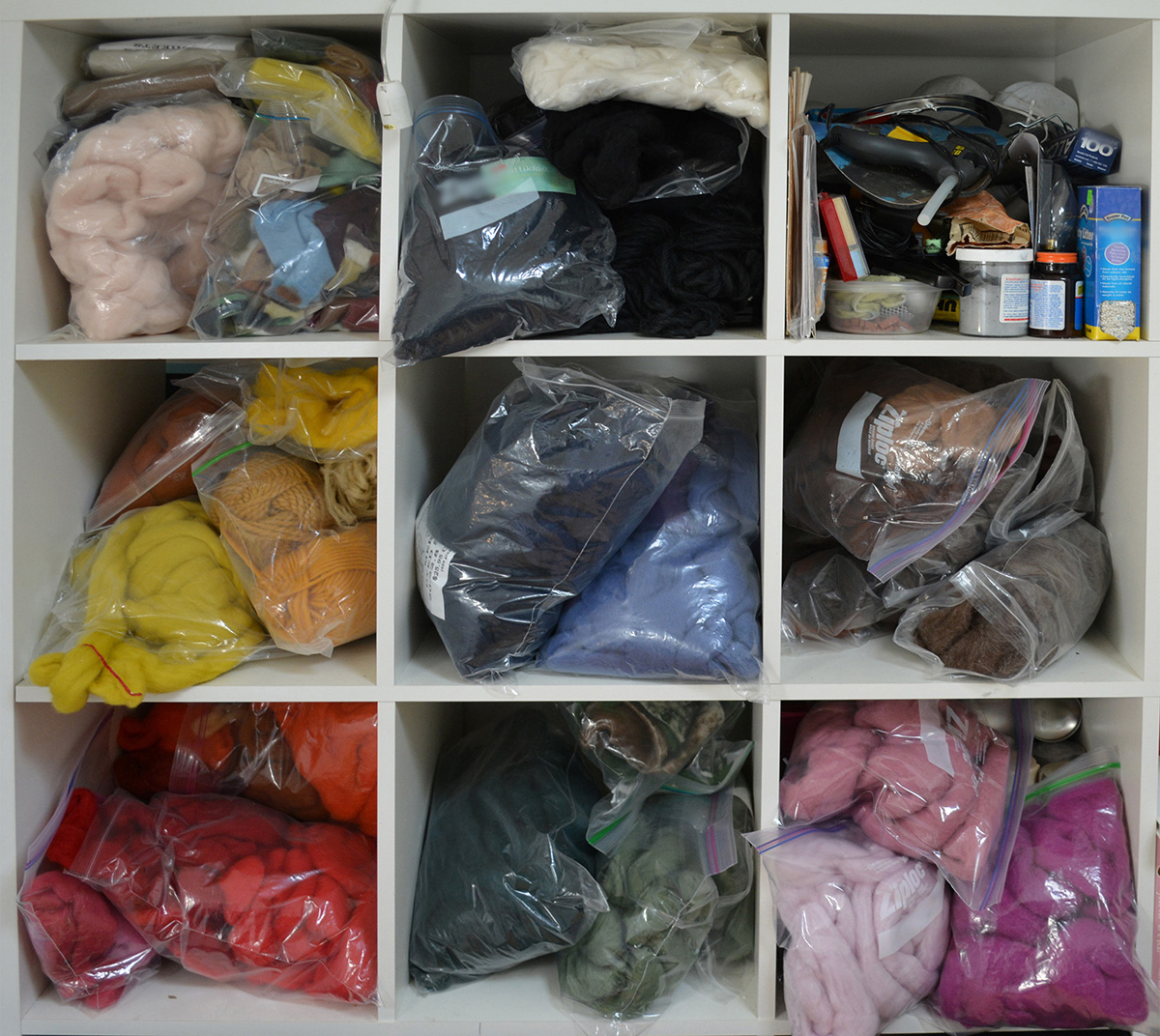 ---
All the white baskets on the shelves contain wool roving sorted into different colors. Here's what things looked like before I got all the white baskets. Now you know why I got them!
---
---
Here are some of the tools of the trade, which look rather ominous. There are of course felting needles and a great big styrofoam pad for felting on. The heavy wire is for the armature inside the felt figures, and I use the rolling fabric cutter to cut felt sheets when creating costumes. I also do a lot of set building, which requires more heavy-duty tools, like utility knives and saws. And nothing is more indispensable than my hot glue gun.
---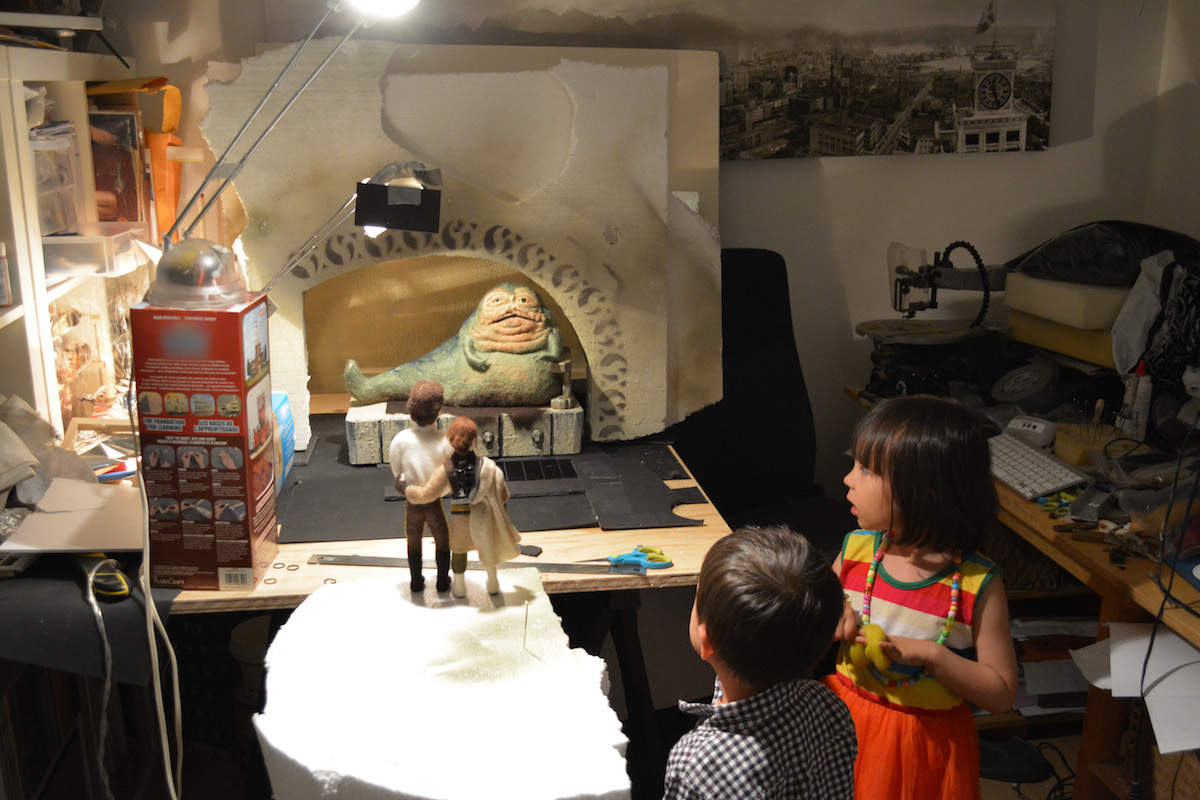 ---
​As I mentioned, my studio is small–sometimes painfully small. Here you can see that I've set up an interior shoot for Star Wars Epic Yarns (in Jabba's palace). When a scale-model set is put up at this end of the room, some of the shelves become inaccessible, and I can barely get to my desk!
---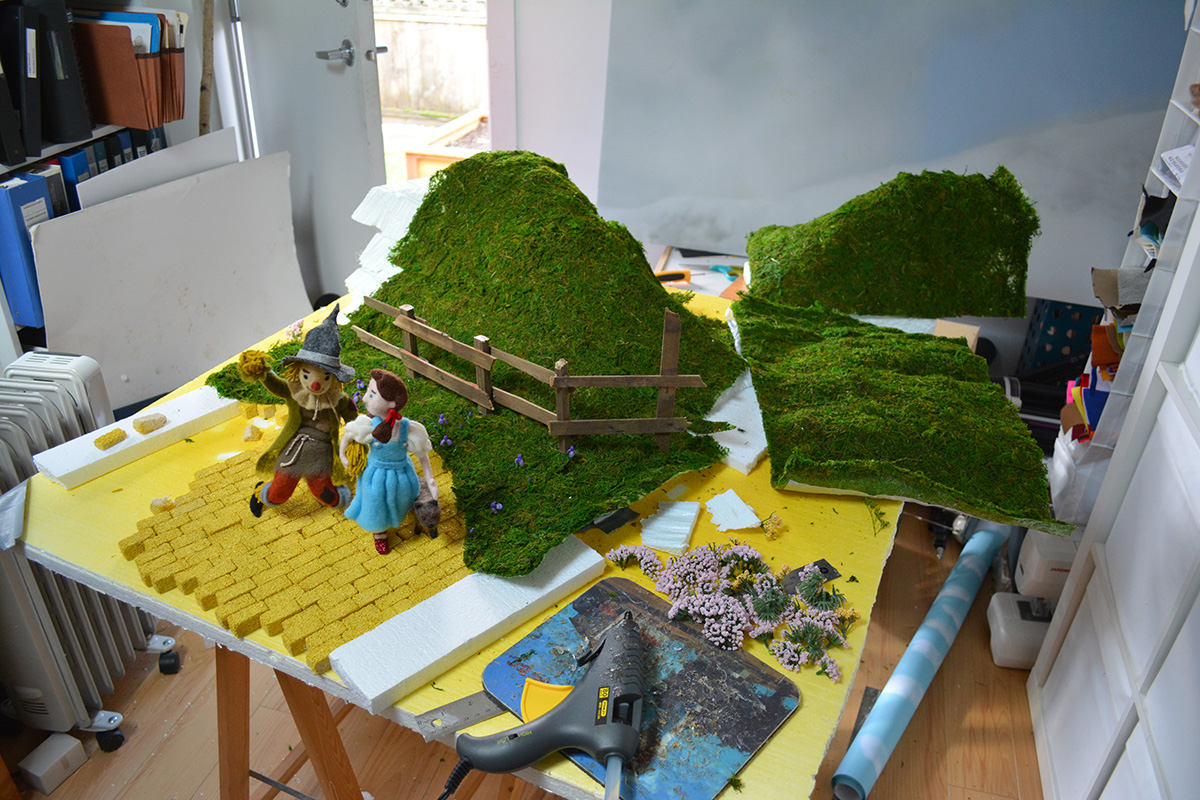 ---
Things are no better when I set things up at the other end of the room. Here I've set up a scene from Cozy Classics: The Wizard of Oz–the book I'm currently working on–and I can barely get out the door! There have been times when I've accidentally knocked over a whole set trying to move around the room, which brings the photo shoot to an abrupt end.
Location photography has its own challenges, like wind and rain, or nosy members of the public asking too many questions. But it's definitely a nice change to have room to work.
---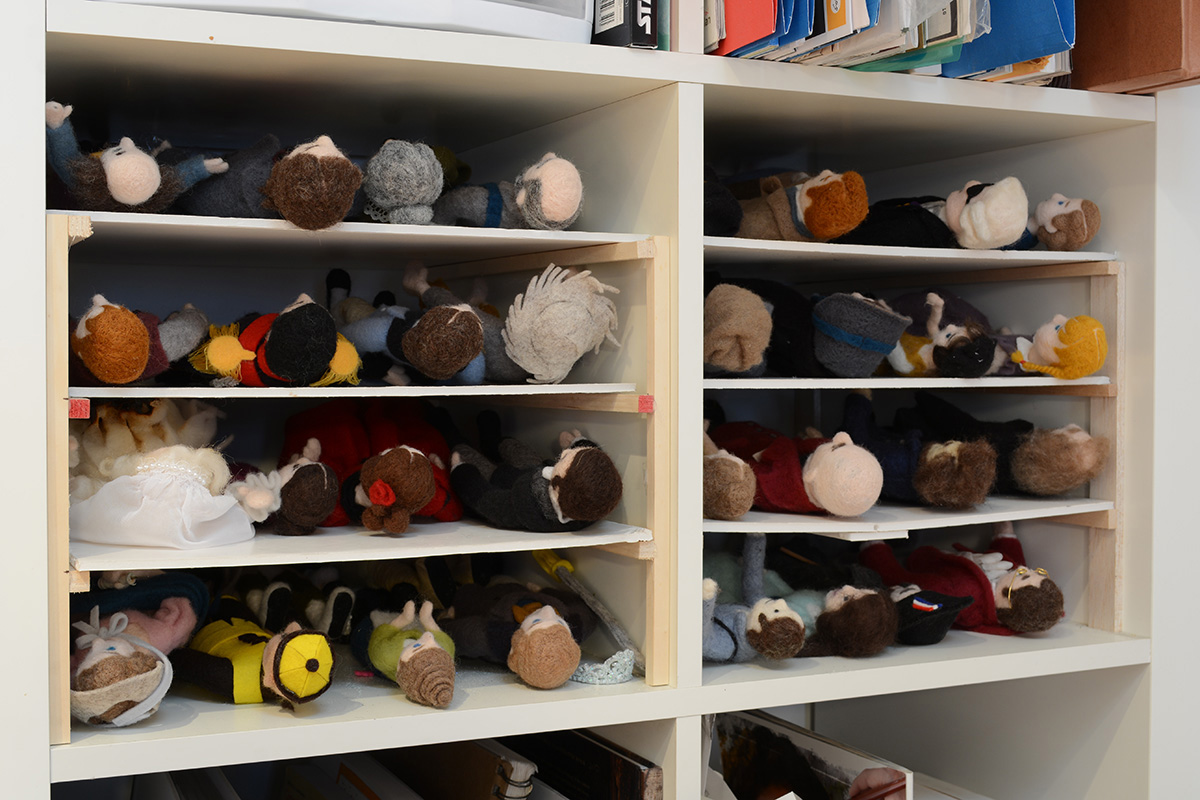 ---
One of the most common questions I get asked is what happens to all the felt figures once I'm done illustrating a book. The answer is a bit macabre: most of them wind up on these shelves in what looks like a mini morgue! When I'm working on a book, the felt figures that are in active use live in a fireproof safe (yes, the safe is jammed into the studio, too, next to my desk!)
Though my studio has its limitations, it's nevertheless a space to call my own, and I love working in it.
Jack and Holman Wang are twin brothers who grew up in Vancouver, British Columbia, where Holman still lives. As well as being the creators of the Cozy Classics and Star Wars Epic Yarns board book series, Jack is a professor of writing at Ithaca College in Ithaca, New York, and Holman is an attorney.