As winds whip branches bare and pumpkins appear on every doorstep, many of us begin to think of ghosties, ghouls, and witches—and to crave a spooky story or two. There are loads of Halloween-themed books available, but this year my daughter decided she wanted to read more about one particular witch with roots deep in Russion folklore: the mysterious Baba Yaga. Lucky for all of us, children's literature provides a plethora of books at all levels featuring this crafty, creepy, charismatic character and her very memorable house that travels on chicken legs. Read on for a wide range of recommendations featuring the infamous witch Baba Yaga and her special brand of magical mayhem. 
BABA YAGA for YOUNG READERS
Grandma Chickenlegs
by Geraldine McCaughrean, illustrated by Moira Kemp
When her stepmother orders Tatia to borrow a needle from Baba Yaga, she's certain she'll be rid of her step-daughter soon. But the clever heroine outsmarts the tricky witch in this fast-paced, high-spirited, brightly illustrated tale.
Matreshka
by Becky Hickox Ayres, illustrated by Alexi Natchev
Young listeners in the mood to be scared just a little will love the story of Kata, who realizes the kind woman who has given her a room for the night is actually keeping her prisoner—with plans to eat her. Kata uses a magical nesting doll to confuse the witch and escape in an exciting story that weaves together many elements of Russian folklore.
Baba Yaga and Vasilisa the Brave
by Marianna Mayer, illustrated by Kinuko Y. Craft
The breathtaking paintings illustrating this picture book elevate the story to new levels. This version of a classic tale will bring to mind elements of Western folk tales like Cinderella and Hansel and Gretel—but the iconic Baba Yaga and the rich, darkly-hued art make it distinctly Russian, and incredibly memorable.
BABA YAGA for MIDDLE GRADE READERS
Baba Yaga's Assistant
by Marika McCoola, illustrated by Emily Carroll
This modern graphic novel retelling harnesses the power of the form to build a spine-tingling storyline driven by imaginative text and haunting illustrations. It follows Masha, a young woman so craving adventure that she's willing to past the toughest tests crafty Baba Yaga can give her—and become her witch's assistant.
The Door by the Staircase
by Katherine Marsh
In this adventurous novel full of folklore and magic, 12-year-old Mary fails in her attempted escape from an orphanage, only to be adopted the next day by the mysterious Madame Z., who happens to travel in a flying mortar and pestle and live in a house with chicken legs…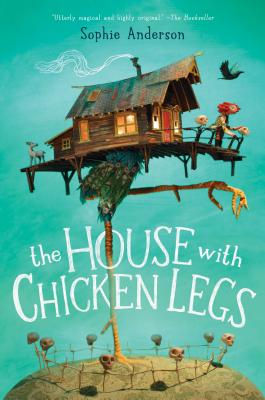 The House with Chicken Legs
by Sophie Anderson
The House with Chicken Legs is an incredible story of magic, family, and longing for friendship—and makes a spectacular read-aloud. Baba Yaga's granddaughter is tired of traveling around the world, her only friend a playful, magical house, her only future training to become the next yaga. Marinka just wants to settle somewhere with parties, school, human friends, and a normal life. But when her actions cause her Grandmother to disappear, Marinka must confront her destiny—and the afterlife.
BABA YAGA for YOUNG ADULT READERS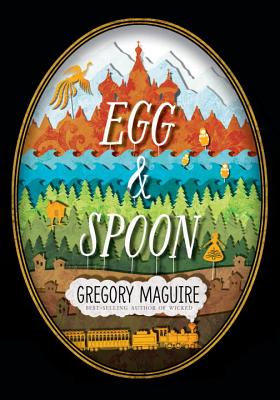 Egg and Spoon
by Gregory Maguire
This sprawling tale from the author of WICKED takes readers on a journey through impoverished Russian countryside, rich royal palaces, and fantastical forests as the fates and futures of two peasant and noble girls intertwine—and the magic of Mother Russia is threatened by unknown forces. The book is at turns witty, philosophical, wry and ridiculous—and it's packed full of plot twists rich with Russian folktales and traditions including Baba Yaga, magical matryoshkas, and opulent Fabergé eggs.
Baba Yaga: The Wild Witch of the East in Russian Fairy Tales
by Sibelan Forrester with art by various artists
This extensive compendium brings together classic Baba Yaga stories from folklore with a variety of art sourced from many artists, mediums, and time periods. The introduction provides a look at Baba Yaga's recent appearances in pop culture—from t-shirts to tattoos.
Enjoy these books about Baba Yaga with all the readers in your life—during the spookiest of seasons and all year long.