Summer is all about traditions and special occasions, and spending time with family and friends. Of course, for our All the Wonders team, summer is also all about reading. So, we thought: why not combine time with friends and books into one big celebration of summer? And thus, the All the Wonders Big Book Block Party was born!
Throughout the summer each member of our team will be bringing something different to the table. The buffet table, that is. See what others have brought to the party by clicking here. We hope you'll pull up a chair and dig in right along with us as we explore the many flavors of the stories we've brought to share. We hope you find some new favorites … and share your own in the comments.
And now: meet Jess Townes!
---
---
Summer has always been analogous with reading for me, as far back as I can remember. Don't get me wrong, I love all the other summery things too—the swimming pools, the backyard barbecues, the roasted marshmallows, summer camp, the fireflies, the road trips, all of it. But for me, those things all had one thing in common—the book that was (and still is) always tucked safely in my bag. Just in case.
Now, as a mother of two young boys, these are the reminders as we get ready to leave the house:
Did you brush your teeth?
Yes, you have to wear shoes!
Bring a book!
Today, I'd like to share a few book recommendations for all the places you or your children might find yourselves this summer. They range in age from picture books to young adult. So, brush your teeth, grab your shoes, and above all, bring a book!
Courage
by Bernard Waber
Walter Lorraine Books
Have you ever climbed to the top of the high dive, looked down and discovered that the diving board got ten feet higher while you were climbing the ladder? Happens to me all the time. This book, which is a beautiful depiction of different kinds of courage, had me at the cover.
---
Bring a Book to the Beach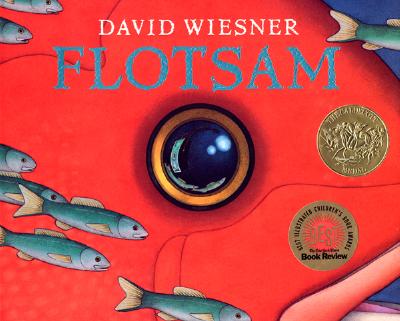 Flotsam
by David Wiesner
Clarion Books
This Caldecott-winning, wordless picture book is a perfect companion for a beach adventure. Wiesner artfully tells the story of a boy, a washed up treasure, and an adventure that connects those who find it through time and place.
If You Want to See a Whale
by Julie Fogliano, pictures by Erin Stead
Roaring Brook Press
There's nothing like being surrounded water to slow down the pace of life. If You Want to See a Whale is a perfect boat companion, as it reminds readers to look, really look, at that which is right in front of you.
---
Bring a Book to Summer Camp
A Clatter of Jars
by Lisa Graff
Philomel Books
This tale of a summer camp for children with magical talents will entertain young readers in their own camp cabins way past bedtime. As the campers at Camp Atropos find themselves losing and exchanging their magical skills, they must uncover who is behind the confusion before they lose their talents forever.
---
Bring a Book to the Amusement Park
The Wild Robot
by Peter Brown
Little, Brown Books for Young Readers
The Wild Robot is the perfect book for passing the time waiting in line (or, sitting out a roller coaster that's just a bit too much for you). It's adventurous, fast-paced, and told in short chapters that each tell their own mini-story. You can read a chapter in line, hop on that ride, then pick it right back up again.
---
Bring a Book Back to School
Gertie's Leap to Greatness
by Kate Beasley, pictures by Jillian Tamaki
Farrar, Straus and Giroux
All good things come to an end, even summer, but this book will start the school year off right. "The bullfrog was only half dead, which was perfect." And with that pitch-perfect opener, we already know enough about Gertie to want to read more. Kate Beasley's debut novel tells the story of Gertie's attempt to become the best fifth grader ever in an effort to win back her estranged mother, and readers will delight in her antics and foibles along the way.
---
Bring a Book to Comic Con
The Improbable Theory of Ana and Zac
by Brian Katchar
Katherine Tegen Books
If Comic Con is on your list of summer plans, than this book should be on your list of must-reads. When middle-schoolers Ana and Zac are paired together for the quiz bowl team, they wind up chasing down Ana's younger brother after he sneaks away from the competition to the local Comic Con held the same weekend.
---
Bring a Book to College Registration
Fangirl
by Rainbow Rowell
Alfaguara
Sleeping in a dorm room for the first time, registering for classes, trying not to get lost on a college campus – it all can be overwhelming. Reading about someone else navigating college life can make it feel more familiar. Follow Cath as she leaves home and lives on her own, away from even her own twin sister, for the first time. The expertly voiced story chronicles her freshmen year as she navigates cafeterias, writing classes, fan fiction, loss and love.