"Two parts of One Person"
Alexandra Boiger, author of MAX AND MARLA (G.P. Putnam's Sons Books for Young Readers), shares the inspiration behind her story of a boy and his owl who set out to conquer a hillside by sled.
---
My inspiration for Max and Marla came from many places. Some are quite obvious, such as watching the Sochi Winter Olympics, while others aren't. However, the underlying essence is based on past and present life experiences. These experiences are personal as well as obtained by watching my family, friends, and people in general.
About Persevering
The two characters, a little boy and his pet owl, started with a feeling. They had no name or shape yet. I simply felt them and knew that I wanted to establish a synergy between the two that makes them one. They are best friends, but they could also be two parts of one person. Max, the dreamer and energetic doer, and Marla, the rather lazy co-dreamer and heart and soul of Max's actions. Balance is everything between the two of them. In their first adventure, they show us the importance and beauty of imagination, perseverance, and above all, the value of friendship and joy for life.
Taking a risk based on one's imagination can be the beginning of any big or small achievement. This sort of fearlessness doesn't carry any judgment, and it promises a huge satisfaction when things play out favorably. But sometimes risks don't always play out well and our society likes to give it a name: failure. However, most of us understand that those moments play a profoundly important role in the development of character.
What are some of the possible reactions to a situation we perceive as failure? Sadness, anger, frustration, blaming others and ourselves. Max and Marla show us another variation. By overcoming their obstacles in a creative and mindful way, winning or arriving isn't the ultimate goal. The path is the goal, and their friendship is what really counts on that path.
This book could be used in schools and preschools as a jumping off point for a conversation about failure. It explores the subject – it does not lecture. A dear friend, writer, and school teacher pointed this out very enthusiastically out to me.
This book brings up questions of what does it feel like to win? What is losing? What is the right attitude when things don't quite develop as we wish them to? How important is it to enjoy ourselves? How important are friends?
The Olympic Sprit at Home
My now 14-year-old daughter grew up with three languages. A gift, one would say, but it implied some difficulties for her when she first started to learn how to read and write. This was an extremely frustrating period for her, and she felt like she was at a great disadvantage at times. Needing extra help and not being at the same level as some of her friends whose first language was English made her feel bad about herself.
We supported her with the help of wonderful teachers, through games, and constant reassurance. However, there was even more at stake. A language connects one to a certain culture. In my daughter's case we are speaking about three cultures, and we didn't want her to reject any of those.
My husband and I had no previous experience of how to deal with a situation of that kind. But we did have the determination to make this work out well for her. And it did. My daughter's initial feeling of failure lead her to become a self-sufficient, confident, and sincere student.
She is proud to know three languages and is not afraid to ask for help when she needs it. This experience has become a great source of humility as well as confidence for her. It formed who she is as a person.
The Olympic spirit shows up in many aspects of our lives.
---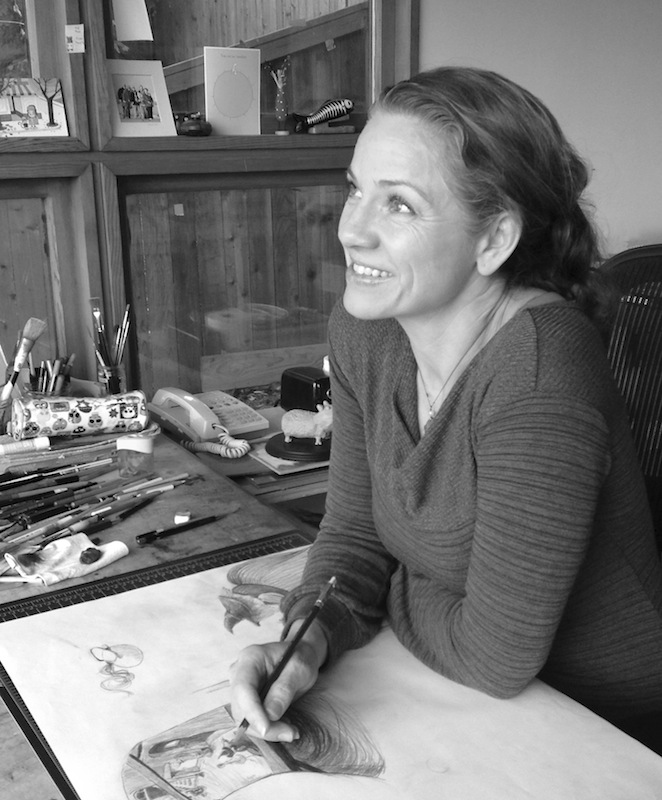 Alexandra Boiger grew up in Munich, Germany as the youngest of seven children. She studied Graphic Design at the Fachhochschule Augsburg before working in Feature Animation at Warner Brothers and Dreamworks. After working in animation, Alexandra decided to pursue a lifelong dream of becoming a children's book illustrator, gathering a following as the illustrator of the popular Tallulah series. Max and Marla is her debut title as both author and illustrator. Alexandra now lives in Northern California with her husband and daughter.

G.P. Putnam's Sons Books for Young Readers is giving away a copy of Alexandra Boiger's Max and Marla to three (3) All The Wonders readers.