I've seen a lot of books in my day, but I have never seen one like this. Steve Light has created something both practical and mystical, epic and intimate. Swap!
Simple enough, right? Trade this for that and be on your merry way. Unless you have a big problem that needs fixing. And big problems need big solutions.
---
---
Here, the crustier, more-weathered-by-the-sea pirate leans on his young marauding sidekick for a brilliant fix. These pirates don't pillage, these pirates swap.
---
---
This sea, this blue, stands guard throughout the swaps. Always waiting, eager to be the pirates' home again. A reminder of where these pirates belong. A motivation for the swaps themselves and an encourager to keep on swapping. Steve Light wanted this blue to be its own character, and in one wash of color, he has succeeded. Page after beckoning blue page.
---
---
Do you see what happened here? The smarts to trade for three anchors when only one will do gives them some leverage for their next swap. Two anchors, two inventive spools for the sail-makers.
---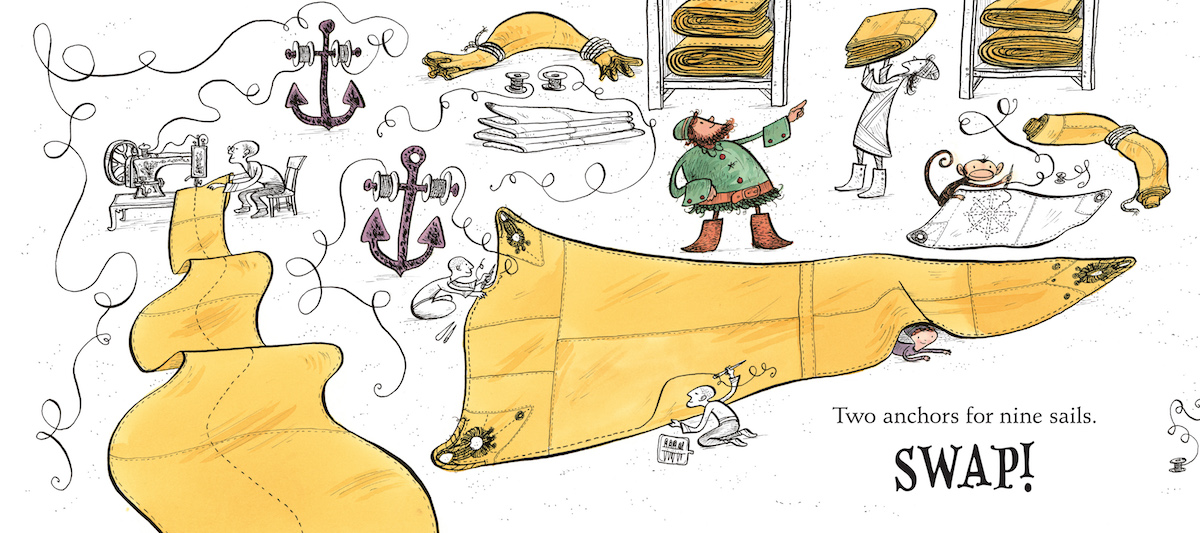 ---
Watch your kids—those picture-reading-experts—follow that wily brown monkey's antics throughout the pages. Observing his story unfold is a good excuse to study the intricacies in Steve Light's line. (As if you needed one.) And when you get your hands on this book, spend some time with the endpapers. A treasure map indeed.
---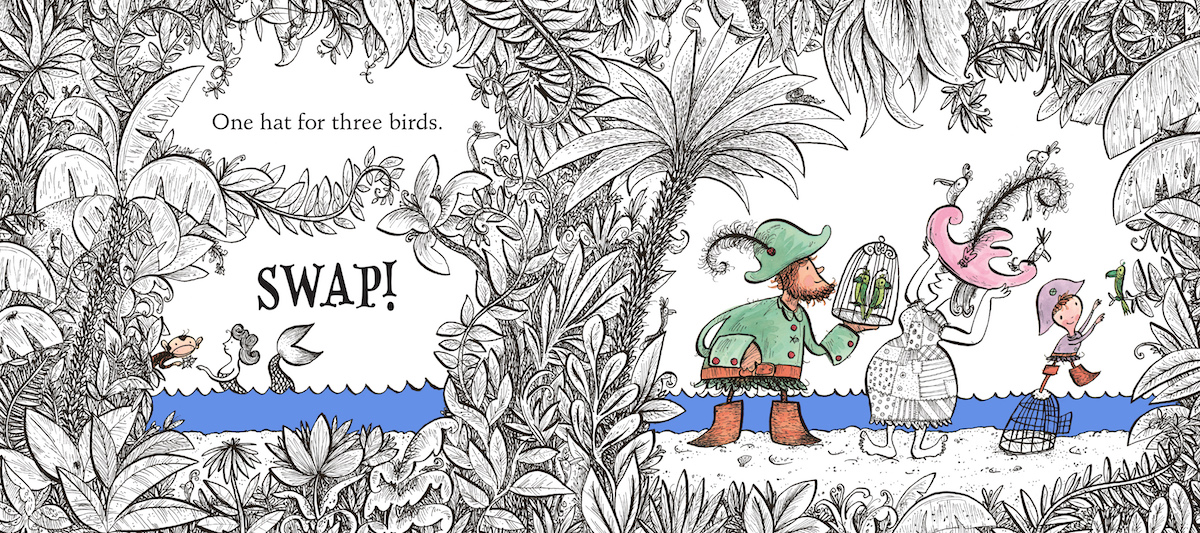 ---
This is a story about community and clever problem-solving. It's a story about friendship. It's a story about adventure off the seas so that your journey on them may begin. Enjoy the swap. Enjoy the sails. Enjoy this story.
SWAP! Copyright © 2016 by Steve Light. Reproduced by permission of the publisher, Candlewick Press, Somerville, MA.
Be sure to check out our ALL THE WONDERS of Swap! page for much more, including a video tour of Steve's NYC apartment studio, an edible craft, a podcast interview with Steve Light, a look at how the art for Swap! developed, and a giveaway of a hand-drawn illustration from Swap!