The brilliance of Aaron Becker's Journey trilogy (Journey, Quest, and Return) goes beyond the quiet beauty of the individual stories and the not-so-quiet beauty of the illustrations. Rather, the brilliance lies in the visual journey Becker allows his readers to take through his books. The masterful visual continuity in each book allows each story to stand on its own as a separate, wordless adventure of a girl in a magical world, but all three books also seamlessly weave together to create a larger, more impactful story.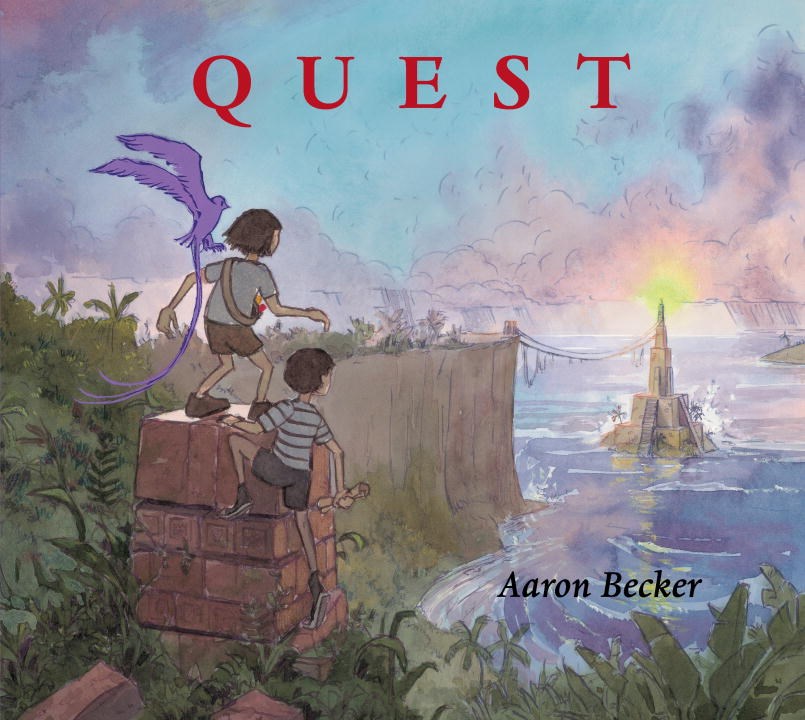 This immaculate continuity actually starts from the covers of the books. When we put all three together we can mark the visual journey that our young heroine—and we as readers—will make across all three stories: beginning, middle, and end. Daytime, sunset, and nighttime.
There is such a delightfully stark contrast between the girl's first entrance into the magical world in Journey with her later re-entrance in Return: while she timidly steps through her door in the beginning, she sprints through the door by the end, excited for the adventure she knows she'll find. Once again, we see that progression of daytime to nighttime, young wanderer to seasoned adventurer.
We watch her grow braver and more curious over the course of each book, and Becker beautifully parallels that growth in character with an advancement in illustration technique: we get to continue our visual journey of this new world with new perspectives of the cities and people.
Just as we get to know the young girl's character over the course of three books, we get to know the kingdom, too. The city becomes more dynamic as the adventures become more complex, and Becker does a beautiful job of connecting the pieces of each story to fully develop the magical world. And, of course, we get the added bonus of seeing the world through the girl's father's perspective in Return.
Each book is like an intricate puzzle piece, and Return is a beautiful, final piece to the adventure.
Be sure to check out our ALL THE WONDERS of Return post for an interview with Return creator Aaron Becker, an exploration of wordless books, and a festive make-your-own-lantern craft!