Tracking your Reading Life: Books Between, Episode #8
Episode Transcript:
Lately I have noticed a lot of conversation and push back against the practice of requiring students to keep a daily signed-by-parents reading log to attempt to hold kids accountable for their reading. As a parent and a teacher, I understand that impulse to encourage our children to read every day and to have something tangible as evidence of that. But I do think there are more authentic ways to help kids track their reading life that are based more on what strong readers actually do in real life.
I think about this conversation today as having two layers. First is tracking your own reading life to get more out of your reading and to be a strong role model for the children in your life. And second, guiding children to keep track of their reading lives.
So with that in mind, today we'll discuss why you and your students should consider keeping track of your reading, thoughts about what to track, and then finally a few ideas for different digital or analog ways to track your reading life.
Why You Should Keep Track of Your Reading Life

To begin with, let's talk about why you should keep track of your reading. I have gone through periods in my life when I am recording all different aspects of my reading, and there have been times when I'm not. But when that's going well, you feel such a sense of accomplishment. It's fulfilling to look back and see how many books or pages you've read. And that motivates you to keep going. Another thing that naturally comes out of recording your reading is that you start to notice patterns that otherwise you might miss. For me, I noticed that I was reading a lot of fantasy and very little historical fiction. Bringing awareness to those patterns and ruts can lead you to set goals and strive toward them.
Another benefit of tracking your reading life is that it helps you remember more details about what you read, especially if you jot down a little bit of information about the setting, characters, or topics in a nonfiction text. Having that information really helps you make better recommendations to children and when they are recording what they read, they can make better recommendations to each other. And that's really what you want to see – kids connecting kids with books. And one more long-term benefit of tracking your reading is that after many years, those documents become nostalgic. They are a snapshot in time of who you were at that moment. One of my most treasured items from high school is the "To Be Read" list I started my senior year when I was really inspired by a teacher to push my reading in a different direction. So hang on to them!
What to Track

Now that I have hopefully persuaded you to track your reading and encourage the children in your life to do the same, let's talk about what you could track. A good place to start is the basics of what you read: title, author/illustrator, date you started and finished. I also like to include a rating, a note about genre and who recommended it to me. Those are all items that I also ask my students to record as well. Another great thing to record is an ongoing TBR (To Be Read) list of books you want to read so you're never left with that "I don't know what to read next!" feeling. Of course, sometimes you can have the opposite problem of having TOO many awesome books to read next. Also – recording progress toward reading challenges can be fun. I participate in the #SixtyBooks challenge and many of my students are doing the 40 Book Challenge so they keep track for that. Jotting down inspiring quotes or "Wow!" moments from non-fiction as well as your own reflections and connections to books, can be another way to get the most out of your reading life. And encouraging students to do that as well keeps things authentic.
Reading habits are another really interesting thing you can record. For example, you could record the number of minutes you read each day, the number of pages, numbers of days in a row that you read at least 20 minutes, or track the genres you've read over a certain time frame. Some adults and some children really love to get into the nitty-gritty with keeping track of all kinds of things. During last summer's library reading program, my older daughter got into setting a timer and inputting all the minutes she read into the computer to watch that number grow. And if something like that inspires a kid to read more, then great. For me, I'm always thinking of the balance between reading time and recording time and putting the emphasis more on the reading. Especially in the classroom where time is so precious.
Ways to Track Your Reading Life

Finally, let's chat about some different digital or analog ways to track reading. Let's start with digital. Some favorite spots for adults and older children are websites like Goodreads or LibraryThing where you can track books read, participate in challenge groups, and connect with other readers. Those sites are nice because they generate great statistics for you about your reading habits. If you are looking for something similar to Goodreads but for younger kids, Biblionasium and Bookopolis are worth checking out. A spreadsheet or word document works, too – and Google Docs are nice if you want to share your lists with someone else. There are also some apps you can use like Book Crawler, Litsy, or BookBuddy or even a basic To-Do app with "reading" as one of the items you track. I notice too that more and more people use Instagram and Snapchat as a spot to post the books they've read. All of those can be really engaging ways for you and your kids to connect with others about their reading.
On the other hand, you could go with a pen and paper analog method. During the first week of school, my students and I set up our reading journals with sections to record the books we've read, our TBR lists, and our new colorful circle genre tracker. If you are interested in taking a peek at that, I'll post a picture in the shownotes and a link to where you can download the student version. The kind of notebook you use is really all about your preference. My students use spiral notebooks but composition notebooks are good, too. For me, I am very attached to my black Leuchtturm 1917 dotted hardcover notebook which I use as my bullet journal. So, if you're not familiar with bullet journaling, it's essentially a combination of planner, to-do list, and habit tracker. I use my bullet journal to keep track of everything including my reading life. I'll post a few pictures on the website if you're interesting in seeing how that looks.
However, I'm really interested in seeing and sharing your ideas. What benefits do you see for tracking your reading life and what methods do you prefer? If you have a second, email me at booksbetween@gmail.com or tag me in a photo on Twitter or Instagram to share how you keep track of your reading life.

3 Incredible New School-Centered Novels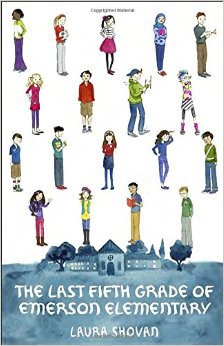 The Last Fifth Grade of Emerson Elementary
by Laura Shovan
Wendy Lamb Books
The first book I want to share with you and that I hope you share with your children, is The Last Fifth Grade of Emerson Elementary by Laura Shovan. This is a novel in verse, but it's not like most other poetry narratives. The premise here is that the 18 children of Ms. Hill's fifth grade write poems about their year to put in a time capsule to commemorate the closing of their elementary school. So the story is told one poem a day from the point of view of each of the students as some deal with personal struggles and some take on the task of saving their school. So here are three things to love about Laura Shovan's The Last Fifth Grade of Emerson Elementary:
There are tiny square sketches of each student to accompany their poems. And it's a small thing, literally, but that touch really helped me imprint each different voice with the image of that character. It made it easier to recognize the narrative threads that pop up in later poems.
How the author presents the problem of the school being torn down with nuance. It's not that the Board of Ed is evil and selling out to some faceless corporation. And not all the students agree that it's a bad idea. And yet, this novel truly recognizes how deeply meaningful a building can be. My middle school was torn down about ten years ago and even though my middle school years were rough, I felt so sad to see that building ripped down. It was beautiful with hardwood floors and a cool spiral staircase in the back. Don't tell anyone, but I actually stole a brick from the construction site when they were tearing it down.
Putting on my teacher hat now – the poetry resources in the back of this book are phenomenal. I got ridiculously excited when I saw them. You get great descriptions of every type of poem used in the novel, topic suggestions for kids, and it tells you the page number where you can find the examples of that kind of poem in the book. Also – it has 15 poetry writing prompts that I'm really excited about sharing with my students this year. This is a book that teachers are going to want within reach when planning to teach some poetry – either within a full poetry unit or throughout the year for some fun writing exercises.
It takes so much skill to tell a cohesive story from multiple points of view and so much skill to convey a narrative through poetry that this novel amazed me. Kids who really like that growing field of novels in verse are going eat up this book. And if you know a kid who likes to write, this book would be the perfect one to put in their hands to inspire some creativity.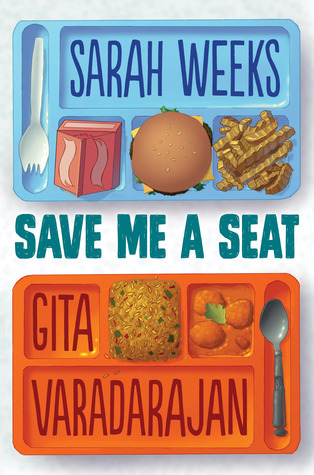 Save Me a Seat
by Sarah Weeks & Gita Varadarajan  
Scholastic Press
Another new and wonderful school – centered novel released recently is Save Me a Seat by Sarah Weeks and Gita Varadarajan. This is another multiple point of view book, alternating between the perspectives of two 5th grade boys –  Joe and Ravi. Joe is tall, a little awkward, and is working through a learning disability. Because of that, he's a target for the popular, thieving school bully, Dillon Samreen. At least, he is until Ravi arrives. Ravi is small, self-confident (at first), and as a recent immigrant from India, he is a bit socially awkward. I read Save Me a Seat as our bedtime read aloud at home with my daughters over the summer. My nine-year-old loved it so much that she swiped it from my nightstand and snuck it into her bedroom with a flashlight to finish reading it on her own.
Here are three reasons why we all loved this book:
The authors recognize the importance of pronouncing names correctly.  My youngest daughter, Helena, and I both have names that are often mispronounced and I deeply appreciate people who try to get it right. My former principal called me "Core-IN-uh" for the entire time I knew her. And she was wonderful and fiercely protective of her staff but I was so intimidated by her as a young new teacher that I just couldn't bring myself to tell her that she was saying it wrong. So, I think a lot of kids can relate to Ravi's frustration when everyone calls him RAH-vee instead of Ra-VEE.

Story structured around the lunch menu for the days of the week. The novel only takes place during the first week of school but so much happens that I had to go back and double check. At first I thought, "Oh, that's a cute device" that the first part is Monday: Chicken Fingers, Tuesday: Hamburgers, but when I got to Wednesday:Chili, I started to realize how the lunch food each day ends up playing a much bigger part than I first thought. At the back of this book, there are also two recipes that also play a part in the story: Apple Crisp and an Indian cookie named Naan Khatai (NON-cuh-tie).

In this book, there is that rare and perfect balance of tension and humor. Often, the reader knows the trouble that's coming because Joe is well aware of Dillon Samreen's bullying and thievery.  But Ravi doesn't know all that. And Ravi reasonably thinks that Dillon might be a good friend and ally – he's also from an Indian family and Dillon has been smiling and winking at him. Dillon is a great villain and you just want to keep reading to see if he gets what's coming to him.
Save Me a Seat is a fantastic book for kids who enjoy humor mixed in with a really inspiring story. And – you can try out some recipes when you're done reading, too.
Ms. Bixby's Last Day
by John David Anderson
Walden Pond Press
Our final school-centered book this week is John David Anderson's novel Ms. Bixby's Last Day. This book is amazing and there hasn't been a day that's gone by since I read it that I haven't thought about it.  It's about three 6th grade boys (Topher, Brand, and Steve) who find out that their teacher, Ms. Bixby, has cancer and her last day at school will be next Friday. The whole class plans a going away party for her but she unexpectedly ends up in the hospital earlier than she thought. And so, these three boys decide to bring their amazing "last day" celebration to her. I've read a lot of great books this summer, but this one was different. I found myself slowing down as the pages dwindled because I didn't want to let those characters go. I just wanted to spend a little more time with them.  There are so many fabulous things to say about this book that it's hard to narrow it down to just three, but – here we go:
How much the storyline is a Quest – Topher, Brand, and Steve are three intrepid heroes braving dangerous territory (skipping school and taking a the bus downtown alone) to collect their sacred objects to make their farewell to Ms. Bixby as perfect as possible. Throughout their journey they have side excursions into dusty old book shops, a bakery, and even a run-in at a liquor store.

It's a small thing, but if you have the hardcover and peek under the dust jacket, you will see a little hidden message from the boys. I think it is so fitting because at the end of the story as you learn more and more about the boys' relationships with Ms. Bixby through their flashbacks, it's revealed that Topher, Brand, and Steven each have a small but powerful moment with her that they have kept secret.

Topher's breakdown of the six kinds of teachers you get like the worksheet loving Zombies, the jittery fast-talking caffeine-addicts, the strict Dungeon-Masters, or the Spielbergs who just show movies all the time. But – Ms. Bixby is what he calls a Good One. And he names a few cool things about her like her pink hair and her python. But I think this paragraph gets at the heart of it. Let me read you a bit from page 30. "There were other things, too, little things. Like how she always chose

The Hobbit

as the class read-aloud and had different voices for every character. How she could be strict when she needed to be and sweet when she wanted to be and kind of a smart aleck all the times in between.  But mostly there was the way she listened to you, giving you her full attention. All the other teachers, they'd keep looking around the room when you talked, but Ms. Bixby fixed you with her eyes and waited for you to finish no matter how long it took you to figure out what you wanted to say."
This is a book that will live in your heart and your students' hearts for a long, long time. As a side-note – I SO want a taste of that white-chocolate raspberry supreme cheesecake!   You and your students are going to love Ms. Bixby's Last Day. And at the end of the show today, I'll tell you how you can get a chance to win a class set of this book.
Q & A
Our last segment of the show is Question & Answer time.
Question:
Last week at my school we had Parent Information Night and one of the questions asked of my teammate was, "How can I talk to my child about their reading, if I haven't read the book?"
Answer:
We chatted about it for a little bit that night, but I didn't get across what I wanted to, and I have been stewing about it for the last few weeks. So, if I had a do-over, here is what I would say:
First, it's fantastic that you're making time to connect with your child about their reading. Simply expressing interest and enthusiasm about their book is more important than any particular question you could ask. Sometimes a simple comment like, "That book looks interesting – what's it about?" opens up the conversation in a more natural way than if you try to read off a set of predetermined questions that never changes. Or, if you want to ask more targeted questions, instead of "Please describe three traits of the main character." you could say "Tell me more about Ramona. What kind of person is she?"
I think that's especially important at home when you want to keep reading time enjoyable and not a chore that they start to dread.
Giveaway
We've teamed up with the good folks at Walden Pond Press for an amazing giveaway! Enter to *win a class set of 30 hardcover copies of John David Anderson's Ms. Bixby's Last Day , a beautiful book we featured last June at All The Wonders.
*U.S. residents only.
Thank You
If you have a question about how to connect middle grade readers to books they'll love or thoughts about any of the topics we've discussed today, please email me at booksbetween@gmail.com or message me on Twitter/Instagram at the handle @Books_Between.
Thank you so much for joining me this week. You can get a full transcript of this show with links to every book and resource I talked about today by going to BooksBetween.com/8 which will take you to our new home at All the Wonders. And, if you are liking the show, please help others find us too by telling a friend, sharing on social media or leaving a rating on iTunes or Stitcher.
Thanks and see you in a couple weeks!  Bye!