Meet Max.
He's a cat. A sweet cat. A sweet cat that sometimes gets dressed in bows. A sweet cat that sometimes gets dressed in bows who does not like that. And that's because Max is fearless and a mice-catcher.
---
---
All Max has to do is figure out what a mouse looks like.
So it's a good thing that Max is brave, because things like exploring cans and fishbowls and way-high-up trees takes guts.
(It's a good thing that Mouse is brave too.)
---
---
On most pages, Max is small and his world is big. But not this one. On this page, Max's brave takes up the entire page, cape unfurled and all. That's how he sees himself. That's how he feels.
---
---
These pictures let Max and his neighbors be the stars of the show. There's no background clutter. No extra details. Only the angst of the journey and the reactions of the animals mistaken for mice. Their eyes, their hearts, their emotions become as full screen as it gets.
---
---
This rabbit leads Max right to the mouse. Except this mouse is a sneaky stinker, and sends Max right into a monster.
---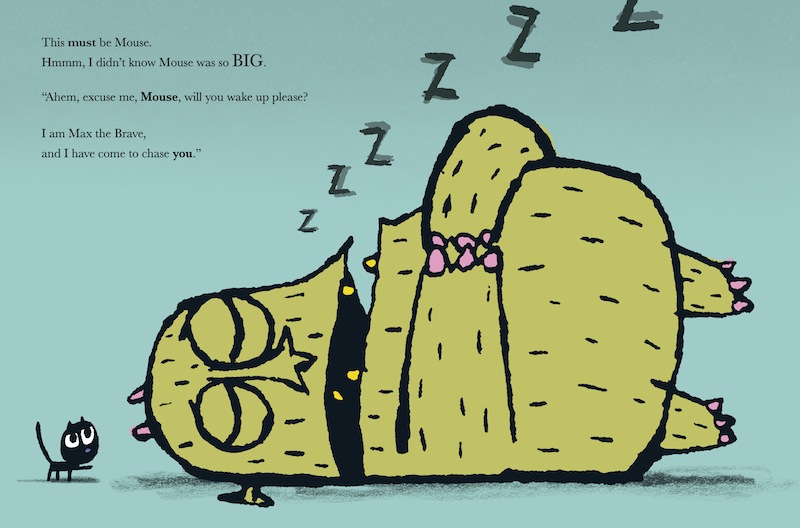 ---
---
---
That page turn, from snoozing beast to bouncing kitty, is all of the best parts of a picture book. They are performance art, suspense-builders, and "No no don't do that, Max!" all in one small package.
The monster hasn't moved, but the mood has shifted. The serene blue background to his nap becomes a dangerous, ominous orange. Color moves the story along as swiftly as this huge Mouse sleeps.
And Max?
He decides mice aren't that big of an adventure after all. But to chase a real monster? That takes all the brave you can find.
---
Be sure to check out our ALL THE WONDERS of Max The Brave post for much more with Max, including a song, a craft, and an interview with Max The Brave author Ed Vere.