---
look
…Out your window and up to the skies, because the aliens are coming. Let's hope they're friendly!
If there's a kid in this world who isn't interested in what else is out there, I haven't met him. Gather up this bunch of books about our favorite extraterrestrials, and round up your littles for some alien fun.
Read about a lonely alien
Your Alien
by Tammi Sauer and Goro Fujita
When a little green guy lands in your front yard, what will you do? How will you feel? How do you think he feels? This book is about friendship and homesickness and the help we give each other when we really see one another.
Read about a bunch of aliens
Mr. Wuffles
by David Wiesner
This might look like a wordless book on first glance, but check out those speech bubbles! What could they possibly mean? What do you think they are saying to each other? What in the (out-of-this) world does that cat think? Savor these pages and slow down, because although there are no words, there is a lot of story to read in its pictures.
Read about a tricky alien
Baloney (Henry P.)
by Jon Scieszka and Lane Smith
This alien gets permanent lifetime detention from Miss Bugscuffle for being late one too many times. She's not too impressed by his excuses, but you sure will be: he misplaced his zimulus but still made the torakku to szkola. You're an expert at pictures thanks to Mr. Wuffles, and this time you can use them to decode actual alien-speak. Just don't mix up thank you for doofbrain. Do you believe Henry P.'s tall tale? Spend some time with the decoder in the back—it turns out alien-speak is a mash-up of many Earth languages. Are we the aliens in the universe?
Read about a friendly alien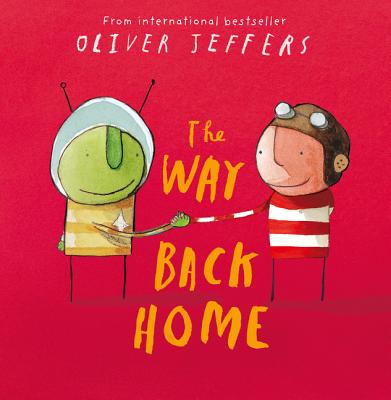 The Way Back Home
by Oliver Jeffers
You read about the alien that crash-landed in your front yard, but what if it were flipped and you flew to outer space? What if you got stuck on the moon because you ran out of gas? Wouldn't you hope the aliens were welcoming and friendly? And if they were, wouldn't you miss them when you got back home?
play
At the end of The Way Back Home, the boy receives a gift in the mail—a walkie-talkie. Pair up with a pal and use whatever walkie-talkies you have on hand to communicate. A phone? A banana? Hollering around corners? Sure! Take turns being an alien and a human.
You know Rock, Paper, Scissors, but do you know Zip, Zap, Zoinks? That's the alien version, of course. On the count of three, say Zip or Zap or Zoinks in your best alien voice. Zip beats Zap, Zap beats Zoinks, and Zoinks beats Zip! Can you win two out of three games in this alien lingo? I'm sure the chorus here is what it sounds like if you were in the pages of Mr. Wuffles or Henry P.'s classroom!
More
Let's color! Click on the following images to download alien coloring sheets, or draw and share aliens of your own creation!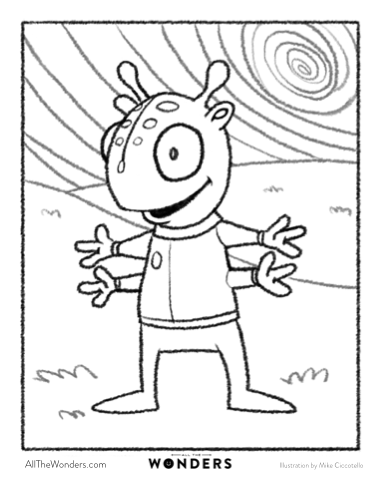 Read on!
Introduce your older readers to the cosmic adventures of Zita the Spacegirl, a graphic novel series by Ben Hatke.