Whether you're planning a book club menu for tweens, introducing kindergarteners to the library, or hosting a book-themed birthday party, these mini book snacks are edible works of literary brilliance. Get ready for rave reviews!
---
Here at All the Wonders, we love books so much, we wish we could eat them all up. And now we can!
Whether you're throwing a bookish baby shower, planning the perfect book club menu, or munching your way through a summer afternoon with a stack of comics, this easy-to-make reading-themed treat will get 5 stars from even the toughest critics. These mini book snacks are easy enough for kids to make, but fun for grown-ups, too.
Teachers and librarians: these also make a fun, engaging way to introduce parts of books to new readers! Parts of the book are identified in bold in the instructions below. Adding a hands-on, edible activity to your lesson plan makes it extra memorable.
here's what we're making for our book club menu
---
---
fruit rolls or fruit leather
graham crackers
"stacker" marshmallows
a knife, pizza cutter or small scissors
edible writing gel or frosting (optional)
toothpicks
---
---
IT'S EASY TO ADD THESE MINI BOOK SNACKS TO YOUR BOOK CLUB MENU!
---
Instructions:
Spread out a fruit roll – this will become your book's casewrap.
Have a grown-up trim 2 pieces of graham cracker to the same length as a stacker marshmallow using a paring knife. These will make your book's case.
Place the graham crackers on the fruit roll. Leave a space between them wide enough for your marshmallow to fit sideways. This section will become the spine of your book.
---
---
4. Use a knife, pizza cutter or small scissors to trim off the excess fruit roll.
---
---
5. Fold in the sides of the fruit roll, wrapping them around the upper surfaces of the graham crackers, creating endpapers.
---
---
6. Fold in the tops and bottoms of the fruit roll, trimming any excess and using your fingers to squish and smooth the edges. (I found my kids' small fingers were MUCH better at this step than mine!)
7. Place the marshmallow on one cracker piece.
---
---
8. Lift and fold the second cracker on top of the marshmallow, creating a book with two graham cracker covers and marshmallow pages.
---
---
9. Squirt a little writing gel or frosting on a plate and dip a toothpick in it. Use this to write the title or to make designs on your mini book snack.
10. You can use food decorating spray, marzipan, candy, or fondant to make more elaborate designs. Your book club menu just got way more interesting!
---
---
Variations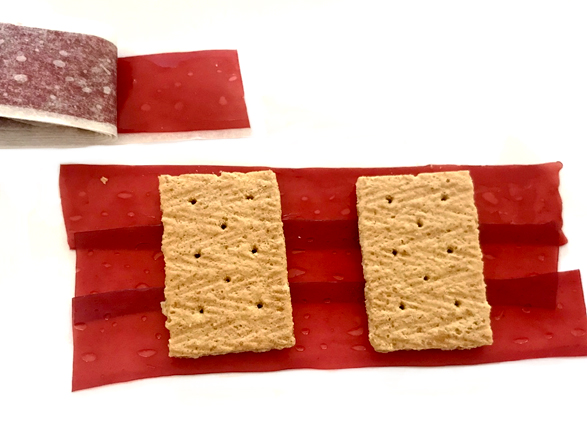 The Skinny: If all you have are the long, skinny fruit strips (like Fruit by the Foot), simply layer 3 pieces to create your book cover, then proceed with the remaining steps.
The Healthy(ish): If using thicker, all-natural fruit leather (like Stretch Island) you can eliminate the graham crackers completely. Just use a pizza cutter to trim the fruit leather to size and wrap it around your marshmallow. If it's not holding its shape well, use a few dabs of frosting OR wet the marshmallow to help it stick together. The "ABC" and "Deathly Hallows" books in the photographs were made this way.
---
---
---
Enjoy making, decorating and eating your miniature works of literary brilliance! They're the perfect addition to your book club menu, bookish party, or Parts of A Book lesson plan!
---