6 Reading Challenge Ideas & the Most Anticipated Books of 2017
Episode Transcript:
One of the best things about the New Year is the reset that happens when December flips over into January and you have a full twelve months laid out in front of you with all the possibilities in the world! You're past the indulgences of the holidays and ready to refocus, make some resolutions, build better habits, and set some goals. So today I'm going to talk about a few fun ideas for reading challenges this year that can help you connect with your community, keep you motivated, and maybe spur you to stretch yourself as a reader in 2017.
Now our conversation today is geared toward personal reading goals for you, but these same ideas can be shared with the students and the children in your life. And as the lead reader in your library or classroom or home, sharing your own reading goals shows that you take your reading life seriously and that we're all in this reading community together. I know that my first day back with my class, I'll be sharing my Reading Challenge list with my students and helping them set up their own. So – if you are thinking about doing a reading challenge this year, here are a few ideas for you:
Challenge Idea #1 – Set a number goal

Maybe that's forty books or sixty books or a hundred books! Something that's a bit of a stretch but still doable for you. Last year, I participated in the #SixtyBooks Challenge – I happened to see the hashtag last January and I thought, "I can do that!" And it's been fantastic. One thing that kept me motivated was connecting to others doing the same challenge on Twitter, Instagram, and Goodreads. So – if you decide to do any kind of challenge, connecting with other readers through social media helps keep you stay excited about it through the year. And if you want to join me this year, just check out #SixtyBooks and we can support each other!
Challenge Idea #2 – Set a goal based on type of book

These can be found all over the internet this time of year. They are usually focused on adult books but you can easily read middle grade books within those categories and maybe make just a couple adjustments. A really great one is Book Riot's yearly Read Harder Challenge which this year features tasks like read a debut novel, read a travel memoir, read a superhero comic with a female lead, or read a book by an immigrant or with a central immigration narrative. Those last two are definitely going on my list! I'll leave a link to that in the show notes and what's nice about the Book Riot challenge is that they have suggestions for each category, a Goodreads group, and in-person meetups throughout the year.
Another Reading Challenge that my friend Emily told me about is the one from PopSugar. They feature 40 book categories with this year's theme of diversifying and expanding your reading – love it! Some of their reading prompts are a book involving a mythical creature, a book recommended by a librarian (I love that one), a book by or about a person who has a disability, a book with a main character who is a different ethnicity than you, and some fun ones like a book with a red spine or a book set in a hotel. PopSugar also has an extra twenty prompts for those hardcore readers who finish early. They also have a Goodreads group and printable lists, and I'll link to their site too so you can check that out.
Another 2017 Reading Challenge that I discovered last week is one hosted by a site called Modern Mrs. Darcy. (Now – already with that name – I'm in!) What I really like about this challenge is that there are two paths you can follow: Reading for Fun or Reading for Growth. Each have just 12 tasks so they are doable and you might even have time to do both! On the Reading for Fun list are topics like a juicy memoir, a book you chose for the cover, and a book by a new favorite author. Those all sound comfy and great. On the other hand, if you want to stretch yourself and go for the Reading for Growth path there are options like a book that addresses current events, a book by an #ownvoices or #diversebooks author, or a Newbery Award winner or Honor book. That all sounds exactly what I need this year.
Challenge Idea #3 – Create a Reading Time Capsule for the year

I wish I could remember where I saw this so I could give them proper credit, but this idea is similar to the practice of families jotting down happy memories throughout the year and tucking them into a jar to read on New Year's Eve. This idea is to jot down favorite quotes and inspiring ideas from the books you've read throughout the year. I'm thinking that a nice adaptation would be instead of putting it in a jar, write it down in a journal or if you want to go more 21st century – challenge yourself to post on social media one inspiring quote or idea about every book you've read this year. And that could also make a very cool classroom project!
Challenge Idea #4 – Do a Library Crawl!

Unlike a pub crawl, which is typically done in one night and you can't bring your kids. Or well, you really shouldn't bring your kids. A Library Crawl can span the whole year, the summer, or maybe just Spring Break. And it's way better when you bring your kids! Basically you challenge yourself to visit a set number of libraries in a set amount of time. Last summer, I was looking for some inexpensive things to do with my girls that would be fun, educational, and get us all out of the house and away from the electronics. So we challenged ourselves to visit 16 libraries during the summer of 2016. And we almost made it! I have a lot more to share with you about Library Crawls, how to do them, some fun ideas, and the unexpected benefits that I think I need to do a whole episode on it.
Challenge Idea #5 – Little Free Library Challenge

Oh how I love Little Free Libraries! They are popping up all over my community, my friends are all getting them, my school is putting one up this spring, and that is our family summer project. There are a couple ways you could go about doing a Little Free Library Challenge. One idea is to simply visit as many as you can this year and maybe document your travels on social media. If you go to the Little Free Library website, you can find listings of all your local registered libraries shown right on a map. If you wanted to extend that into a Pay it Forward challenge, you could donate one book to each Little Free Library you visit.
Challenge Idea #6 – Design Your Own Reading Challenge!

Think of it as a 2017 Choose-Your-Own-Reading-Adventure!  Take the best ideas of the options out there and create something for yourself. And these ideas are easy to layer.  So you can set a number goal, participate in say, the Book Riot challenge or pick your own categories to read from the options you like, and maybe pick up those books while you do your library crawl.  
Whatever you decide, get your kids and students involved, too and I'd love to see what you've got planned for the year!  You can send me an email at booksbetween@gmail.com or connect on Twitter or Instagram with the handle @Books_Between.
the Most Anticipated Middle Grade Books of 2017

In this segment, I share with you a few books centered around a theme. This week I'm highlighting some of the most anticipated books of the upcoming year. Some are new books in favorites series. Some are by favorite authors. Some are by debut authors. And some just sound fantastic! So, get ready to add to your wish list. And just a reminder – that you can find every book mentioned here AND a picture of the covers AND a link to pre-order them right through the Books Between Podcast link at AlltheWonders.com. So, no need to scurry and write things down. I've got your back, I know you're busy, so it's all right there for you!
One quick note before I start – publication dates do change, so while I've mentioned the month each book is expected to release – things sometimes change.
All right – let's get to it!
January


february


march


april

may

june

july


august & beyond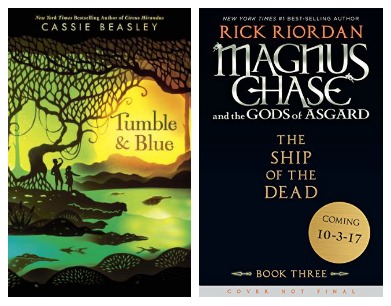 Q & A
Our final segment this week is Question & Answer time.
Question:
After sharing our Top 20 Middle Grade Books of 2016 list last week, I got this question from Jane: "Do you have an idea what book to get a 10-yr-old boy who reads on a 12th grade level?" And she added, "He is currently into the Warriors series."
Answer:
That can be a tough situation. He CAN read Young Adult or Adult books, but you've got to be careful of the content, which might not be okay for a 5th grader.  
A quick example / horror story about that: when I used to teach 6th grade in a middle school, one of the reading assessments we gave was a computer program that would determine a reading level and would then print out a recommended list of titles for each kid. Sounds great, right? Well. I noticed that the kids who scored the highest were being recommended A CLOCKWORK ORANGE! I never ripped a piece of paper out of kid's hand so fast! (Can you imagine if that went home?)
So – anyway – just because the reading level is a good match, does not mean the book is a good fit.
But – there are lots of middle grade books that have a higher reading level. And if he likes Fantasy, then there are some great books that I think he'll like.  I might try the Wings of Fire series. It has some similarities to Warriors – there are clans and battles and shifting alliances – but it's dragons instead of cats.  He might really like The Inquisitor's Tale by Adam Gidwitz or maybe The Wizard of Earthsea by Ursula Le Guin or even The Lord of The Rings which is more "high" fantasy.  Another option that a friend recommended is The Riverman Trilogy by Aaron Starmer.
So, Jane – let us know how things go and if you've found something that hits the mark.
Thank You
Alright, that's it for the Q&A section this week. If you have a question about how to connect kids between 8-12 to books they'll love or an idea about a topic we should cover, I really would love to hear from you. You can email me at booksbetween@gmail.com or message me on Twitter/Instagram at the handle @Books_Between.
Thank you so much for joining me this week. You can get a full transcript of this show and all of our previous episodes at AlltheWonders.com. And when you are there, check out Matthew's interview with Cozy Classics creators Jack and Holman Wang. I cannot stop reading and rereading these adorable little board books. And, if you are liking our show, I'd love it if you took a second to leave a rating or review on iTunes or Stitcher.
Thanks, Happy New Year, and see you in two weeks!  Bye!