Beauty & the Beast
Announcement: Book Drive
First, I have a quick announcement and an opportunity to do something really kind. Some of you may have heard the story about the Pleasant Run Elementary robotics team called the PantherBots. They were competing at their district's high school among a bunch of other schools and got first place. And during the competition and after the challenge as they were leaving and in the parking lot, this group of 9 and 10 year olds and their families, were told "Go back to Mexico" and subjected to other racist comments. Two of the kids are African-American and three are Latino.
So – the reason that I am bringing this to our attention is that author Shannon Hale is calling for a book drive in support of the team and the school. I'll link to her page directly, if you want more details, but let me read to you her request:
"Hey friends! Like me, many of you were horrified by this news report:
We want to show love for this school and their outstanding robotics team in the form of a book drive. This is a Title 1 school with a very diverse population. Authors, you can sign books to Pleasant Run. Anyone else who can donate is much appreciated! Picture books, early readers, chapter books, and middle grade books most welcome, especially those written by and featuring people of color. Also early readers in Spanish would be a bonus as they have a dual immersion language program for some kindergarten classes. Mail books to:
Pleasant Run Elementary
1800 N Franklin Rd
Indianapolis, IN 46219
If you have books more appropriate for middle or high school, this diverse district would love those too!"
And then Shannon lists their address which again, I will link to for you.
I saw that and I knew that you all would want to help! Maybe you have a book on your desk or bookshelf right now that you could spare. Hey – send it media mail – it's cheap! For a couple of bucks you can let this community know that they are supported, we have their back, and do something tangible to bend that arc toward justice.
So, I'm going to get on that this week and mail out some awesome books, and I hope you will, too!
New Beauty & the Beast movie
Analyzing & Comparing other Beauty & the Beast versions

Beauty & the Beast Picture Books


Beauty & the Beast Chapter Books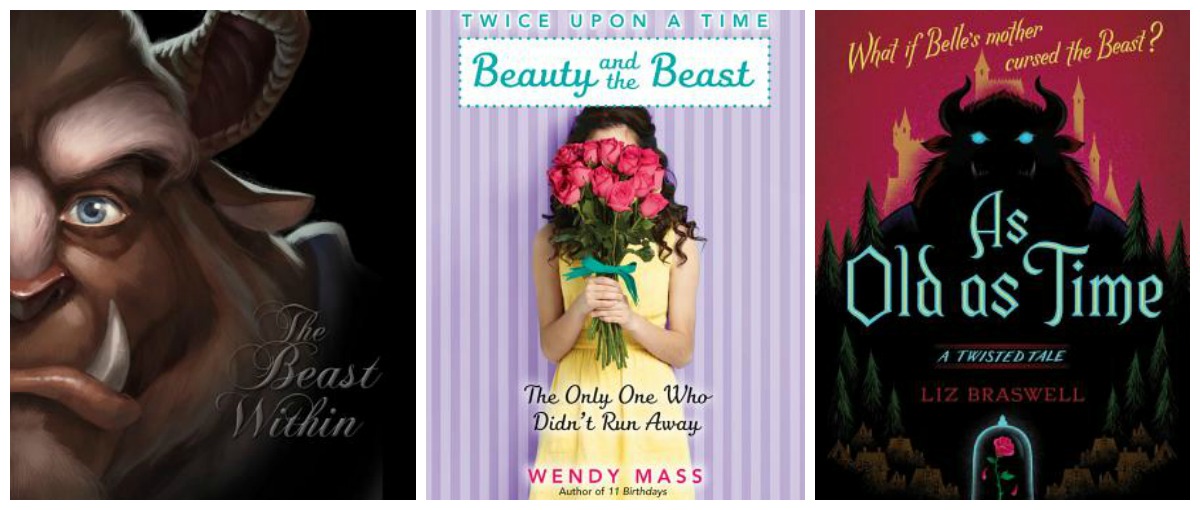 Two New Contemporary Fiction Novels

In this part of the show, I chat about books centered around a theme and discuss three things to love about each book. This week the two books on my mind the most are two new contemporary fiction releases: A Boy Called Bat by Elana K. Arnold and Forget Me Not by Ellie Terry.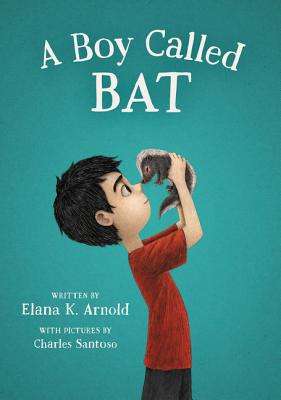 A Boy Called Bat
By Elana K. Arnold; Charles Santoso (Illustrator)
Walden Pond Press
Our first featured book this week is a sweet, sweet book called A Boy Called Bat by Elana K. Arnold. It's about a 3rd grade boy named Bixby Alexander Tam (B-A-T – Bat for short), his older sister, Janie, and their mom who is a vet. Well, one day Bat's mom brings home a tiny newborn skunk and immediately Bat is entranced and just wants to take care of him – feed him formula and help him figure out how to go to the bathroom, keep him cuddled up in a sling, and basically be with him all the time. But – this baby skunk is scheduled to go to the rescue center in a month. And Bat is going to do whatever he can to keep this skunk himself. It is an adorable book with some deeply poignant touches. Here are three things to love about A Boy Called Bat:
How this book understands the challenges of kids with divorced parents. For Bat and his sister, that means every other Friday they go to their dad's to spend the weekend. His dad calls him "sport", which he hates, and makes a weird, smelly chili in the crockpot and Bat has to watch baseball on tv. And the change in routine makes Bat feel uncomfortable. And as a kid of divorced parents, I could really relate to some of those scenes. And I am sure that kids you know could also connect to those sections.

Bat's relationship with his older sister. Like a lot of siblings they are a mix of friendly and frustrated. Janie is, I think, in middle school and watches Bat a couple days after school when their mom has to work late. And Bat is particular about his snacks and wants to tell the same stories over and over again and sometimes it's hard for Janie to be patient. Especially when Bat does something to one of her t-shirts. But then…. there are sweet moments, too. One especially stands out when they are both at their dad's apartment, stuck watching baseball, and Bat braids Janie's hair for her. And it's a small but a sweet moment between siblings that are very different.

Bat – he is earnest and kind of quirky. His social interactions are sort of awkward. For example, he's sometimes too honest and doesn't quite get most figurative language. He's definitely a literal thinker. He sometimes flaps his hands when he gets upset, and loud noises tend to bother him. And as those behaviors started to build up throughout the book, I started to wonder – what's the deal with this kid? Does he have Asperger's or autism? I kept waiting for the author to clarify that, but the more I think on it, the more I'm glad that Elana Arnold did not pin a diagnosis on this boy. And simply let us come to know and love him as an individual. And yet – I'm glad to have another book in our library like

Rain Reign

or

A Whole New Ballgame

or

Counting by 7s

with a character that might be on the autism spectrum that kids can get to know. And it's at a lower reading level than those other books – probably best for about ages 7-11. But would make a great read aloud for Kindergarten or 1st grade.
A Boy Called Bat is a heartfelt book with characters you love, and I hope that we haven't seen the end of Bixby Alexander Tam.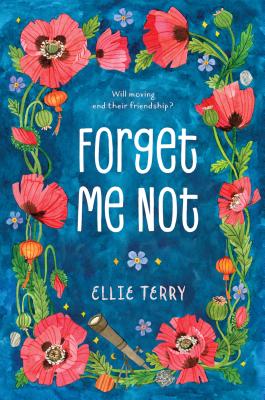 Forget Me Not
by Ellie Terry
Feiwel & Friends
Our next new release is the middle grade debut by Ellie Terry called Forget Me Not. The setting is Utah and our main character is Calliope – called Calli by her family. Callie is smart, into astronomy and poetry and sensitive. She also has Tourette syndrome (TS) and was given some advice by her doctor and mother to hide that fact from people. But she is so eager to connect with and make a long-lasting friendship. Because Calli moves a lot – her mom likes to just pick up and go once her relationships turn sour – Calli is in this position of starting a new school and trying to mask her tics and noises. But, she has formed a bond with Jinsong – her classmate and neighbor. However, he is not so sure about being open about their friendship, especially as his friends start to target her. Here are three reasons you and your kids will fall for Forget Me Not:
How this book is like a duet between the voices of Calli and Jinsong. The chapters alternate between their points of view with Calli's section in verse and Jinsong's parts in prose – each with their own font. I really liked how that helped you differentiate between the two characters.

I appreciated how this was an honest take on bullying in schools. The children who are harassing Calliope are being cruel, but often have their own story that if you got to know them, you might have some empathy. I know that there is absolutely never any excuse for harassment but sometimes those kids that can be the nastiest are going through some tough stuff. Also – considering the bystander angle, this book really shows how hard it is to stand up to people when they're being mean – even if you've signed one of those pledges like Jinsong has as part of his role as student body president. His choices and regrets I think are a more honest portrayal of how those situations really tend to go down.

The gorgeous cover. And I know it's a seemingly small thing, but when a cover is done right – it draws you into the book and after you read it, the images reveal something deeper than you first noticed. This was one of those books that as soon as I saw the cover, I was entranced by it. So this cover is a deep shaded midnight blue with bright reddish poppies circling the title along with blue forget-me-nots and orange paper lanterns, moon, stars, telescope, rock – all the little mementos from Calli's story. The more I look at it, the more I just love the sense of a bright garden in the moonlight.
Ellie Terry's Forget Me Not is warm and good-hearted and offers a unique point of view for kids, and I love that this novel can shape their opinion about those with Tourette syndrome and hopefully widen their perspective beyond the unfortunate stereotypes. Terry herself has TS, and I'd love to read you just a bit from the Author's Note in the back.
Thank You
Alright – that's it for our show this week. Don't forget to show the students and robotics team at Pleasant Run Elementary some love!  If you have topic you think we should cover, I would really love to hear from you. You can email me at booksbetween@gmail.com or message me on Twitter/Instagram at the handle @Books_Between.
Thanks again for joining me this week. You can get find a transcript of this show and all of our previous episodes at AlltheWonders.com.  And, if you're enjoying the show and finding some value in what you hear, please help others find us too by telling a friend, sharing on social media, or leaving a rating on iTunes or Stitcher.
Thanks again and see you in two weeks!  Bye!