celebrating the 2017 Newbery Winners
Episode Transcript:
Last Monday morning at 8am, I sat with my 18 pajama clad 5th graders and we had donuts and watched the Youth Media Awards live through the American Library Association website. They had their favorites that they were rooting for – The Wild Robot and Pax among them. But honestly, the day wasn't really about the ultimate winners of those awards. To me, it was about honoring ALL children's literature and showing my students that books for THEM, for an audience of children and teens are worthy of stopping everything and making a big deal of it. And, they learned about a lot of great books while they watched. They knew about the Caldecott and the Newbery, but now they know about the Alex Award, the Schneider Award, the Coretta Scott King Award and so many others that recognize the diversity in children's literature. There were gasps when March got its fourth award and suddenly, every kid in that room wanted to know – wow, what is THAT book about? And when they learned about the Stonewall Award and that one of their all-time favorite authors, Rick Riordan, had won it for Magnus Chase – there were some opened minds that morning.
Some of our favorites didn't win – but that wasn't really the point. The point is having a favorite that you are passionate about and discovering new books and authors that are going to stay with you forever.
2017 Newbery Award Books
For our book talk segment this week, I'm going rebroadcast the two segments about the Newbery books that I have already featured on the show and then talk about the two others that earned recognition this past week.
The novel that won the Newbery Award this year was Kelly Barnhill's The Girl Who Drank the Moon. And – yeah – I think I may have screamed a tad when it was announced. Here's what I had to say about this book back on Episode #15.
The Girl Who Drank the Moon
by Kelly Barnhill
Algonquin Young Readers
Our second featured book today is The Girl Who Drank the Moon by Kelly Barnhill. This is also an adventure survival story but a fairy tale fantasy with powerful witches, a poetic swamp monster, and a seemingly small dragon. The start of this story takes place in a gloomy village along a bog called The Protectorate run by a group of unscrupulous men called The Council of Elders. Each year, on the Day of Sacrifice, these elders take the youngest baby in the village and leave it in the woods. They do this, they claim, to appease an evil witch. Well, it turns out that there is actually a witch, a kind witch named Xan, who rescues these poor babies and feeds them on starlight while she journeys across the dangerous volcanic mountain to find a new home for them. Except one year, she accidentally feeds a baby moonlight instead of starlight and enmagicks the child who grows to be uncontrollably powerful. The rest of the story is about Xan's attempts to help her adoptive granddaughter harness that power, and what happens to the villagers left behind in The Protectorate – including a young Elder-in-Training named Antain who starts to have doubts, and the girl's mother who ends up going mad and being locked in a tower with secrets of its own. It is beautiful and powerful. And here are three more things I loved about Kelly Barnhill's The Girl Who Drank the Moon:
The magic. This is not your typical sparkly, wand summoned magic. It's earthy and primal and often exists as something almost separate from the characters. Flowers spring from footsteps. And there is a flock of paper birds that swarm and cut and lead and protect in a way that is both beautiful and terrifying at the same time. I loved how unique the magic in this book was.

The love you feel for the characters. Somehow Barnhill has written them in a way where you feel this deep sense of warmth and protectiveness and empathy for them. Xan, the witch, is getting older and she desperately wants to impart all of her knowledge that she can to her granddaughter, who she's named Luna. But that same spell that protects her makes it so that she can't get through to her. And you keep hoping that Luna will discover who she is and maybe be reunited with the mother she was so brutally ripped away from. And all the people in the village – especially Antain and his wife – who are under the thumb of the Council of Elders. I just felt so much love for this characters.

What this story has to say about truth and power. In this book, there are some who feed off of other people's misery. Those who raise themselves by putting others below them, by controlling what stories get told, and by spinning lies. But – there comes a time when the people start to realize how much power they actually have when they band together to use it. Loved it.
The Girl Who Drank the Moon  is lush and quirky and whimsical and funny and full of adventure. And I can't wait to read everything else Kelly Barnhill has ever written because this was one powerhouse of a book.
Freedom Over Me
by Ashley Bryan
Atheneum/Caitlyn Dlouhy Books
The first Newbery honor book announced was  Freedom Over Me by Ashley Bryan. Well, I was totally wrong when I predicted that a picture book would not be included this time. And I'll admit that this gorgeous and powerful picture book slipped by me this year. When I got this book, one of the first things I noticed was the cover featuring the images of eleven enslaved black men, women and children whose faces appear in the links of circled chain. Wow. And then flipping open the book and skimming, my heart stopped when I noticed the prices under each face. $300, Stephen age 32. Or $400, Charlotte, age 30 and her child, Dora, age 8. Whew – I hadn't even read the text yet and this book had struck me. Before I talk about the text, the illustrations are gorgeous bright yellows and purples and greens in a Van Gogh style where you can see the swirls and textures on the each page. And in the background of several of the pages are images of legal documents showing the sale of these people as property.   
       Okay – the text. Freedom Over Me is a book of poems – each one from the point of view of an enslaved man, woman, or child who live on the same plantation and are about to be sold. They share remembrances of their homes and childhood in Africa, their work on the plantation, and their hopes and dreams for the future.
      What's fascinating is that the seeds of this book came from real slave-related documents that the author had acquired and his wish to honor the humanity of these people lost to history. It's beautiful, and moving, and just stays with you a long time.
Also receiving a Newbery Honor this year was the incredible The Inquisitor's Tale. Here's what I had to say about this book back in Episode #10.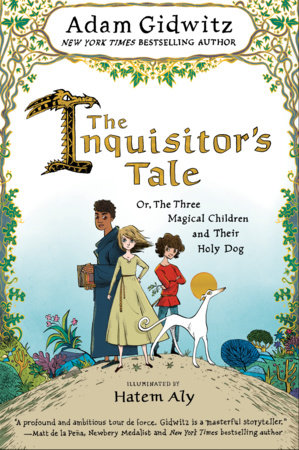 The Inquisitor's Tale
By Adam Gidwitz; Hatem Aly (Illustrator)
Dutton Books for Young Readers
Our final book featuring an abundance of surprising twists is The Inquisitor's Tale by Adam Gidwitz. I have been texting, tweeting, and talking about this book so much in the past month that when I type the letter I into my phone, it automatically suggests "Inquisitor" as the first option. This novel is a medieval adventure story about three magical children (and a dog) who are pursued by various agents of the Inquisition. The first is a young girl named Jeanne (sort of like a young Joan of Arc) who has fits and sees visions. Then we meet the talkative and tall monk-in-training, William – an eleven year old whose unusual dark skin is likely the result of a relationship between his crusading father and a North African woman. Since this is 1242 France, his appearance and supernatural strength immediately have people seeing him as dangerously different. And finally, there's little Jacob – a wise Jewish boy reeling from the recent death of his parents and just starting to realize his powers to heal others.  Eventually all three are both hailed and condemned as saints and have to outwit and outrun their pursuers. The story is so gorgeously detailed and interconnected that any description I give you of this novel is NOT going to do it justice. You just have to get it and read it yourself.  The fact is there are so so many big and little things I loved about this book, but I have committed to limiting myself to three.
I have to start with the illustrations. Just like many real medieval texts had illuminations in the margins,

The Inquisitor's Tale

includes dozens and dozens of intricate sketches by Hatem Aly. There is so much to explore there but I think what is most fascinating is the note at the beginning of the novel explaining that the drawings might actually contradict or question the text.

That profound mix of humor, philosophy, and yes – savagery. There are gross jokes galore in this book. And I love how that is mixed in with deep philosophical and religious discussions between the children. At one point, Jacob asks that eternal question:

Why would a good God let bad things happen?

 This is a book about saints and at some point it dawns on the children that most saints are martyred. In high school, I worked evenings in the rectory (the office) at St. Cecelia's church and during down times, I would read this dusty old copy of Lives of the Saints. And the stories in there were appallingly gruesome – and this novel doesn't really shy away from the awfulness of that. But, it does give some hope that people with intensely different beliefs might still find a way to work together and be friends.

The character twists! I don't want to say too much and ruin it, so I'm really holding a lot back here, but all throughout this book, you meet the most vile, nastiest characters and then suddenly… it flips and one of the narrators helps you see their point of view. And even if they've still DONE terrible things, you have more empathy for them. Then you realize that one of the key characters that have been telling you this story – You. Can't. Trust.  Ahhhh!  I LOVED it – this book had me gleefully yelling at the pages.
The Inquisitor's Tale would make a fantastic read aloud, and I've heard the audio version is phenomenal. I think this novel is probably best suited for upper middle grade readers about ages 10-14 but I am sure any teen or adult who likes an historical adventure with some awesome fart jokes thrown in is going to really love it!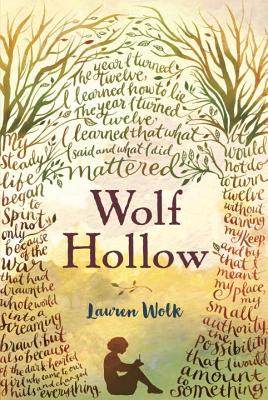 Wolf Hollow
By Lauren Wolk
Dutton Books for Young Readers
And finally,  the third Newbery honor book is one that you will not soon forget –  Wolf Hollow by Lauren Wolk.  I think just about every librarian I knew had this book in their hands at some point over the past year, and I finally started it last week and immediately knew I should have read it months ago. For some background, it's an historical fiction set in 1943 rural Pennsylvania. And it's about a 12 year old girl named Annabelle whose steady life gets derailed when this vicious, manipulative girl, Betty, arrives in town. She's horrendous. You hate to speak ill of a child – even a fictional one, but – errr – she is clearly a sociopath or emotionally disturbed. The chain of lying that starts when this girl comes to town is tragic and yet – you could see it coming. I've got to say that I adored this book, but there were some times in the beginning that I had to put it down for bit when it got too intense. I can handle almost anything, but when kids are in danger – especially children the same age as my own – I have a bit of a tough time. There are these heart-rending moments when Annabelle is faced with moral dilemmas that would have adults cowering. And – it's small but there's this scene where Annabelle is in a clearing in the woods near her home and looking at this large stone with clear quartz veins running through it. And it suddenly hits her that this rock has been there long before her and everyone she knows and will be in the same place long after everyone is gone. And her life is nothing more than a flicker in time.  It's that moment of cosmic realization that we all eventually go through. I'll just read a small passage from that page:
"And I decided that there might be things I would never understand, no matter how hard I tried. Though try I would.
And that there would be people who would never hear my one small voice, no matter what I had to say.
But then a better thought occured, and this was the one I carried away with me that day: If my life was to be just a single note in an endless symphony, how could I not sound it out for as long and as loudly as I could."
That's the line that I'm carrying forward with me today, this week, and for a long, long time.
Thank You
Thank you so very much for taking the time to join me this week! You can get find a transcript of this show and all of our previous episodes at AlltheWonders.com. And lots of other fantastic resources to lighten your heart and connect the children in your life to books they'll love.
Thanks again and see you in two weeks!  Bye!