All The Wonders This Week w/ jeanette bradley: november 19, 2019
Introduction
Board book trends, a nonfiction book to inspire letter-writing, and new comics coming our way. We've got all this and more. I'm Corrina Allen and this is All The Wonders This Week.
Joining me this week as co-host is Jeanette Bradley - a writer, an illustrator, a former urban planner - and author/illustrator of the picture book Love, Mama and the upcoming When the Babies Came to Stay and No Voice Too Small: Fourteen Young Americans Making Change, Co-edited with  Keila V. Dawson, and Lindsay H. Metcalf and Illustrated.by Jeanette.

---
KIDLIT News
Fans of the Baby-sitters Club graphic novel adaptations will be pleased to know that comic publisher

Graphix will be publishing six new books in the series

! Starting in 2021, they will be coming out twice a year and cartoonists

Gabriela Epstein and Chan Chau will alternate as adapters of four of the books.

I bumped into an interesting article by Alison Doherty on

Book Riot

last week analyzing the first and last lines of each Harry Potter book. So if you are a Potter fan, it's a fascinating read. But - it does obviously contain spoilers so you have been forewarned!

And Board Books are booming! 

Publishers Weekly reports

that for the fifth year in a row, sales of board books have increased and retailers are noticing more demand from customers and are expanding their board book sections.  Barnes & Noble reports a particular interest in nonfiction board books. In the article,

Cynthia Compton, owner of 4 Kids Books & Toys in says, "As I watch adult customers browse in board books, there is less 'risk' in the purchase of these titles as gifts. They are short, can be perused easily, and the lower price point allows customers to group items to just the amount they want to spend," giving customers a lot of flexibility. She also finds that board books are being purchased for a wider age span. "We see parents of toddlers and preschoolers selecting board books over picture books for durability."
Today's New Releases
Picture Books
Little Legends: Exceptional Men in Black History

by Vashti Harrison

New York Times bestselling author-illustrator Vashti Harrison shines a bold, joyous light on black men through history.  The exceptional men featured include artist Aaron Douglas, civil rights leader John Lewis, dancer Alvin Ailey, filmmaker Oscar Micheaux, musician Prince, photographer Gordon Parks, tennis champion Arthur Ashe, and writer James Baldwin.  This is a sequel to Harrison's blockbuster LITTLE LEADERS. While I love all the picture book biographies of girls and women that we've seen come out in the last couple of years, I also know there's a real shortage of picture books featuring black male main characters, so this is a great addition. And Harrision's art just makes everyone smile.

We Are Makers: Real Women and Girls Shaping Our World

by Amy Richards

Based on the rich collection of interviews and documentaries from MAKERS, this book introduces pioneering women from all walks of life. Readers will get to know these women's hopes, dreams, challenges, and accomplishments in chapters filled with personal stories, historical information, inspiring quotes, and much more. 

Finding Narnia: The Story of C. S. Lewis and His Brother Warnie

by

Caroline McAlister

,

Jessica Lanan (Illustrator)

 

Before C.S. Lewis wrote The Chronicles of Narnia, he was a young boy named Jack who spent his days dreaming up stories of other worlds filled with knights, castles, and talking animals. His brother, Warnie, spent his days imagining worlds filled with trains, boats, and technology. One rainy day, they found a wardrobe in a little room next to the attic, and they wondered, What if the wardrobe had no end?

Corrina: 

Also this week - your picture book Love, Mama is coming out in board book!  I'm wondering - can you tell us a little about the book and the process from going to picture to board book format?

Jeanette:

Board books are smaller in size and shorter in pages than a traditional picture book. So the process of creating the board book involved consolidating some of the double page spreads in the original.  We also created a new cover that worked better in the smaller format. The new cover is actually the image from the back of the old cover, except that the marketing team wanted it to be on a blue background instead of yellow, so I had to repaint it to make the color work. I'm so excited about this, because I think that LOVE, MAMA is the perfect book for a toddler with a traveling parent, or an early preschooler who struggles with separation anxiety at school, and I absolutely love that there will be a smaller sized, sturdy edition of this book, perfect for the tiniest hands.
---
Middle Grade
I am excited to see that the second book in E.D. Baker's More Than A Princess series is out today

Power of a Princess

.

And a release out today that might be perfect for gift-giving season is called

Sincerely, YOU: Letter Writing to Change the World

.  The author, Savannah Maddison, is a teenage country singer who started a letter writing campaign between students and deployed soldiers called Savannah's Soldiers. And this book is about how letters can connect people around the globe and it offers some tips on how to overcome writer's block to write a creative and inspiring letter.

Science Comics: Skyscrapers: The Heights of Engineering

by John Kerschbaum T

he latest volume in First Second's action-packed nonfiction graphic novel series for middle-grade readers!   Join a pair of superheroes as they uncover the secrets of skyscrapers, from the great Egyptians pyramids to the world's tallest building.  I love this series of science graphic novels, every one I have seen so far has had clear explanations of the science, and also been really fun to read.
---
Currently Reading
Jeanette
Making Friends

, graphic novel by Kristen Gudsnuk - my eight year old picked out this book. It's the story of Dany, a lonely 7th grader who uses a magic sketchbook to make the perfect friend come to life. The story weaves together superhero fandom, contemporary middle school life, magic drawings, and some deep, philosophical concepts about what it means to be a real human and a real friend. And it works.  Going to get the sequel next trip the bookstore! I also finally got my hands on a copy of Saturday by Oge Mora this week and I am in love with her color palette, and the way her adorable characters skip across the page!  SATURDAY is a story of how everything can go wrong but you can still have the best day ever if you focus on what's really important.  I love it.
Corrina
Just started a middle grade book I've been recommended a lot called

Roll With It

- about a girl named Ellie who loves to bake and who has cerebral palsy so uses a wheelchair. So far - I am really enjoying it!  It's funny and insightful - and one part that stands out to me in the section I'm reading now is how Ellie and her family are dealing with a grandparent who has dementia.  I also lived in intergenerational homes for most of my life and caring for elderly relatives is something I think a lot of kids can relate to.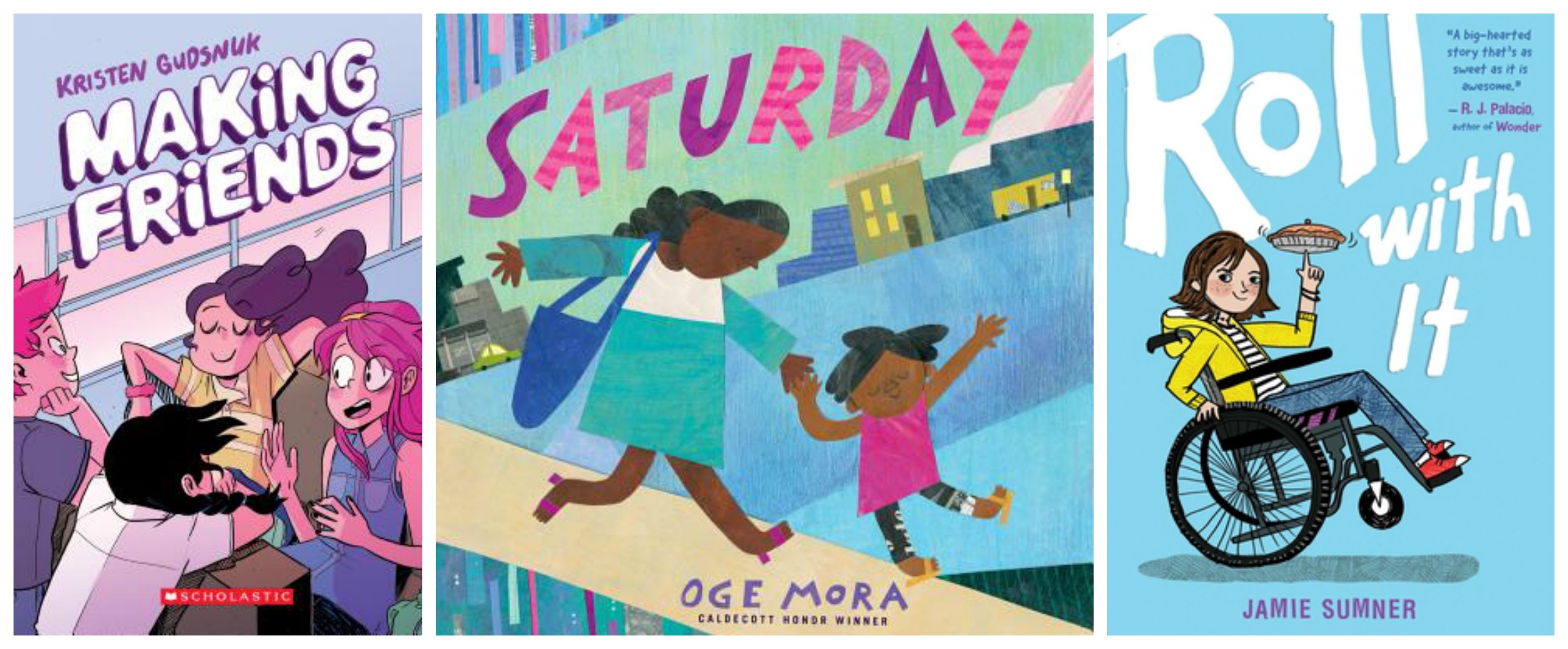 ---
wonderings
Corrina
On my mind this week as we head into Thanksgiving here in the United States is the power of food and story. And how those two things are often tied together and lift each other up -  the special dishes that have been passed down generations after generation along with the stories of those relatives who helped make them. And the stories we tell as we share a meal. And maybe it's on my mind lately because the last couple of books I've read - Fry Bread, and Summer of a Thousand Pies, and Roll With It all significantly feature food and family stories .
Jeanette
On my mind is soft censorship. There have been a couple situations in the last few weeks of schools cancelling visits from LGBTQ authors, with excuses about schedule conflicts or "lack of notice to parents." Two authors who have had this happen to them recently are Leslea Newman (HEATHER HAS TWO MOMMIES), and Robin Stevenson (KID ACTIVISTS: TRUE TALES OF CHILDHOOD FROM CHAMPIONS OF CHANGE).  K.A. Holt (FROM YOU TO ME) also had a school visit cancelled in the spring. Her article in Publisher's Weekly says so eloquently the troubling impact these cancellations will have on students:  "My heart still breaks for every kid that day who, instead of learning about writing and story structure and my dog's cute haircut, learned that because of who they are, they should be made invisible to their class, their school, themselves"
Thank You
Thank all of you for listening and sharing your Tuesday with us!
You can find an outline of the show and links to all the books and topics we chatted about at allthewonders.com.  If you have a question or comment, I'd love to hear from you! You can contact me at corrina@allthewonders.com or connect with me on Twitter or Instagram. And reviews on iTunes or Stitcher are always much appreciated.
The All the Wonders This Week podcast is brought to you by All The Wonders, where children's books are for everyone. Journey beyond the page with podcasts, videos, crafts, and more at allthewonders.com.
See you next week!