Episode Transcript:
Our main topic today is rethinking reading logs. This topic has been on my mind for a couple of years but I recently got fired up about it again when I came across a great article by Shaelynn Farnsworth called "6 Alternatives to Reading Logs". (As always, I'll link to that in the show notes.)
First, we'll define what a reading log is, chat about why they are popular and sometimes valuable, we'll discuss some potential problems with traditional reading logs, and then I'll share eleven great alternatives that you can start using tomorrow.
What is a Reading Log?

Traditionally, reading logs are a worksheet where students record the titles of books they've read, including a daily tally of minutes or pages. Usually, teachers ask parents to sign them. For example, my 2nd grade daughter has a weekly sheet where she colors in a box for every ten minutes she's read at home. She writes a reflection on the bottom and we're supposed to sign it every week. Lately this kind of reading log has gotten some pushback – from both teachers and parents. You probably have an opinion about them!
Why are Reading Logs popular?

What's the purpose and the benefit? Some of it may have to do with teachers just going on autopilot and using practices they are familiar with from colleagues or their own schooling. That's why I used them for so long. I think also we teachers are looking for tangible evidence that kids are reading and reading outside of school. Also, reading logs are a way to communicate the importance of reading to students and parents and an attempt to get families involved in nightly reading routines. Because many strong readers do record at least some aspects of their reading, and we have this instinct to track habits we want to encourage in ourselves – your eating habits or steps on a Fitbit. Also – sometimes Reading Logs are used to try to motivate kids to read more and to award prizes. I think that can work for short periods of time – we recently had a two week reading challenge at my school where everyone – kids and staff – were challenged to read 100,000  minutes in two weeks. It was quick and fun but not for the whole year. Tracking reading can be a powerful tool when kids know the purpose and it's for their own reflections and not a "gotcha". If you want to learn more about some authentic ways to track reading, we covered that in Episode 8. I'll drop a link to that in the show notes or you can just scroll back down in your app after you're done with this episode.
What are some downsides to Reading Logs?

Reading Logs – especially the year long parent signed minute tracking type can be problematic. You and I know that lots of them are faked. Heck – I've even "fudged" my own children's! Now – to be clear – I didn't lie about how many minutes she read or faked a signature or added on more time. But sometimes it got to be Sunday night and we'd forgotten to jot down the minutes, and so we'd estimate how much she read each night, and use different colored pens so it's not obvious we filled it all in the night before. If I am doing that, you know for darn sure that most families are doing something similar at least some of the time! And if there's a penalty for not turning them in, it creates a situation where kids are punished for home environments that make it difficult for them to get daily signatures. And it can create contention at home. And I never want reading time to be a battle. Also – when the numbers of minutes or books read are publically displayed with a child's name attached – that can be embarrassing for kids. I have a FitBit and I am trying to get in more steps daily. I recognize that my health is important, but I'm not doing great with that yet. Do I want my stats posted all over the walls of the school for everyone to see? No – I do not! So please don't do that to kids!
What can we do instead?

Because responding to reading, signaling the value of reading, and getting students, families, and communities involved in building reading habits are worthy goals. I'm coming at this from a place of wanting to do better myself and specifically to use more technology. So here are 11 ideas you can start using tomorrow instead of reading logs:
Reading Journals: Have children keep a journal of their reading instead. Keep it simple and have them record a quick thought about their reading a few times a week and then share. That's even more powerful if you keep a reading journal, too!
Status Updates: Do a daily "Status of the Class" where each kid (and yourself) does a quick share of the title, page number and what's happening in the book they are currently reading. For my class, that's our daily routine after lunch as kids are getting resettled.
Quotes: Have students share thought-provoking quotes from their novels or powerful facts from their nonfiction reading on a "Graffiti wall". Basically you dedicate a white board or put up some black bulletin board paper and get some fun markers and have your class (and you!) mark down your thoughts. Status of the Class and the Graffiti wall, I think were both originally mentioned in Donalyn Miller's The Book Whisperer. If you have not read that book yet, please please go do that before anything else.
Books Talks: Invite students to give brief book talks sharing and promoting books they've recently read. Often, kids are going to listen to their peers more than you. I like this idea because it helps them practice showing excitement about books, and I hope they'll carry that enthusiasm out into the world and feel more comfortable talking up books with their family and friends because they've practiced doing that in the classroom.
Blogging: Get students blogging about their books and reading lives. There are so many possibilities here: book reviews, top ten lists – or top 3 lists (keep it simple!), drawings, you know those BuzzFeed quizzes that ask you which Harry Potter character are you most like? Students could make their own! There are so many cool things kids could do that if you just put it out into the world with a real audience, their engagement and incentive to actually do deep reading and quality work will go up. For me, this is my main goal the rest of this school year. And I am inspired by fellow teachers who have spoken about the powerful things that happen when outside people and authors comment on those blog posts and engage with their students.
Seesaw: I have fallen in love with this app. It's awesome. Essentially it's a digital portfolio that students all ages can use. It's free and kids can get to it on tablets, phones, computers, or Chromebooks. The feed can stay private to your class or be published on a blog. There are SO many ways kids can respond to reading with Seesaw – I'll just name a few. They could take a picture of themselves holding their current read and then add an audio clip of them reading aloud a favorite scene. They could snap a picture of a page and annotate it with drawing tools – maybe circling some powerful language or a favorite quote. They could record a video of themselves doing a booktalk. It's an incredible tool.
Social Media: Have students share their thoughts about their personal reading on Social Media – whether that's a class Twitter account, Facebook, Instagram, Snapchat – and whatever else is the next new thing! You could have kids snap a pic of the cover of their book and write a 140 character review. Or share a powerful quote. If they have photo editing software or are using Seesaw, they could mark it up and annotate it. In Shaelynn Farnsworth's article "6 Alternatives to Reading Logs", she mentions the hashtag #BookSnaps to connect with other readers and for you adults listening – check it out to get some really game-changing ideas. I want to make sure to mention #BookSnap founder Tara Martin – she's my exciting new Twitter Professional Development find this week so absolutely go follow her and get inspired.
Interviews: Students can interview a classmate (or sibling or parent) about a favorite book or a current read. Come up with a couple questions, record the interview in a journal, or record a video, and share. This one takes more time and you probably won't be to do it everyday but it's a fun way – maybe every month or every quarter – to change it up and have kids practice having conversations with each other about books and reading.
Online Trackers: Instead of a traditional reading log, have students track their reading on a site like Biblionasium or if their older, Goodreads. These are sites where kids can make recommendations, write reviews, participate in challenges, and really take something boring and dry and turn it into a practice that can last beyond the school year.
Book Trailers: This is a huge favorite. Have kids create a video promoting a book they love. If they can share it with a wider audience than just your classroom, even better.
Pictures from Parents & Family:  A couple weeks ago we had a week long Winter Break at my school. And the day before, I sent an email home asking families to send me a funny or interesting or cozy picture of their kid reading over winter break. I just did it on whim, and honestly – I wasn't expecting too much. BUT – over break, my email box was flooded with pictures of kids reading in snow forts, reading to their little sister or their puppy – one boy was reading on the ferry with the Statue of Liberty in the background. I was crying over these pictures – I was so moved by how many families embraced this and were joyful about sharing those images with me. Now we are going to take those photos and make a video to promote reading in our school.
I hope that you were also inspired by these ideas and now have a seed of something exciting you want to try in your school or with your kids. Some of these ideas I've been doing, but I'm starting to see that any one of them will eventually lose its appeal and it's good to have a variety so kids can see all different ways that reading can be important in their lives and maybe they'll carry on one of these ideas on their own. And as always, we are learning together and helping each other out, so please share with us your ideas for alternatives to traditional reading logs. You can tag me on Twitter, Instagram, and now Facebook – our handle is @books_between or email me at booksbetween@gmail.com and I'd love to share your fabulous ideas!
Three Amazing Science Fiction / Fantasy Graphic Novels
In this section of the show, I share with you three books centered around a theme and discuss three things to love about each book. This week is all about the graphic novel – specifically science fiction / fantasy graphic novels. And I can attest – these books are going to be winners in your classroom, library, or home. They are Amulet by Kazu Kibuishi, Hilo by Judd Winick, and the newly released One Trick Pony by Nathan Hale.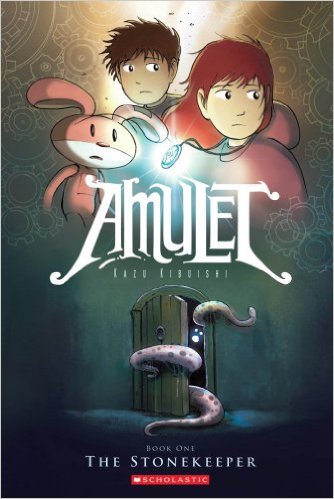 Amulet
by Kazu Kibuishi
Graphix
I am starting with Amulet. I am going to admit that I was slow to the Amulet series and didn't even have a set in my classroom until this year. I know, I know – how I could have overlooked this series is, in hindsight, beyond me. But at some point last summer a friend chided me saying, "Really, you teach 5th grade and don't have Amulet in your room?" She was right!  Alright – some background about the plot. The story revolves around a young girl named Emily.  After a horrific family tragedy in which her father dies, she and her younger brother Navin and their mom move to a mysterious house once owned by Emily's eccentric – and missing – great-grandfather. While cleaning up and investigating the house, Emily and her brother find a powerful amulet, end up trapped in another dimension, and have to save their mother from a gruesome tentacled monster – all while fighting their own monsters along the way. With some help from some unexpected, umm….  creatures. Here are three things to love about Amulet:
The color palette. This is just a gorgeous book to immerse yourself in! There are cool shades of blues and grays, touches of teals mixed with warm ambers and browns and pinks. Like the colors of a hazy sunset over a blue-gray ocean. Just vibrant, rich warm and cool colors playing off each other.

The creatures and plants in the

Amulet

world are COOL. Giant pink parachuting mushrooms, a skulking silver eyed elvish villain, adorable rose colored slugs, a menagerie of weird robots, and an unexpected pink bunny(?) named Miskit. I think he's a bunny – my students thought he was a robot maybe I'm wrong there.    

How completely

Amulet

sucks kids in. When I was basically TOLD to get this series for my students, I had planned to read book one first. Uh – no. They immediately snagged it from me and from there every book in the series was passed from kid to kid to kid – this web of children all connecting around this one incredible story. At one point in my class, over half my students were reading an Amulet book. It's one of those moments in your class when you see them forming a community of readers and it just makes your heart sing. So – finally, last week, most of my class was far enough into the series that book one, which is called The Stonekeeper by the way, was finally available. I took it home before anyone could snag it again. And my 9 year old swiped it from the coffee table. And my 7 year old snatched it after that. Honestly, it's a miracle I've gotten to finish the thing!
Amulet is clearly a must-have graphic novel for any classroom library grades 3-8. It's kind of like a mix between Journey to the Center of the Earth and Zita the Space Girl. And – a bit of advice. Don't even bother just getting book one – get the whole series because you and your kids won't be able to stop.
Hilo
by Judd Winick
Random House Books for Young Readers
Our next science fiction graphic novel is Judd Winick's Hilo. This is a fun, fast-paced, sometimes wonderfully silly series of three books (so far!) about a young kid named DJ who discovers a robot boy, called Hilo, who fell to earth. And DJ and his friend, Gina, have to help this kid figure out who he is and what he's doing on Earth. And of course – have awesome adventures fighting off menacing robots. My kids and my students really enjoy these graphic novels. Here are three reasons why we all love Hilo:
The diverse cast of human characters. Our main guy is DJ Lim – an Asian-American kid surrounded by high-achieving siblings and just discovering his own confidence. The story is told from his point of view. The scenes at DJ's home with his family are some of my favorite parts. His best friend is an African American girl named Gina. It's nice for middle grade kids to see a strong friendship between a boy and girl. And Gina has some similar struggles going on with her family. She also feels a bit in the shadow of her driven cheerleading twin sisters. DJ and Gina make a great duo.

The "fish out of water" details in the story. Hilo is a robot from another dimension who looks and sorta acts like a boy, but he doesn't really know his powers and certainly doesn't know how to behave in the human world. Or at school. He is very, uh enthusiastic about eating weird combinations of food like rice and milk – and he's enthusiastic and loud about everything really! He takes apart DJ's dad's car and paints his house polka dots.

The humor and hilarious catch-phrases. Hilo shows up wearing silver underwear  – at one point his head flies off his body. There are fart and burp jokes galore and Hilo loves the words Outstanding and Hazzah! Really  you'll be smiling through this whole book.
Judd Winick's Hilo series is cheerful, positive, laugh-out-loud funny and great for kids who love books like Big Nate and Bone. It's kind of like a cross between Calvin & Hobbes and Mork and Mindy.
One Trick Pony
by Nathan Hale
Amulet Books
Our final featured sci fi / fantasy graphic novel is one that I have been waiting and waiting to read! It is called One Trick Pony – by Nathan Hale. You might know Mr. Hale from his awesome Hazardous Tales historical graphic novel series. If you don't – you're gonna love those too! This novel is set in a post-apocalyptic near future where alien invaders are devouring every last trace of human-made metals and electronic devices. All that's left of humanity are small bands of survivors trying to outwit and outrun the aliens.  The main character is a girl named Strata who finds  a beautiful and rare robot pony when she's out scavenging with her brother and her friend. Strata insists on keeping the horse even though the presence of something technical makes them a target of the aliens who are soon chasing after them. Here are three things to love about One Trick Pony:
Kleidi, the robot pony. She is gorgeously golden and pops out in Nathan Hale's distinctive two tone yellow/gray coloring for this novel. She adds comic relief when she only listens to Strata and no one else. And plays a surprising role at the end of the book. I gotta say, the ending shocked me – in a good way. It took a twist I was not expecting at all.
The aliens. These are seriously scary multi-limbed, disjointed, frightening giant blobbing aliens called Pipers that release bubbles to capture electronics they scavenge from the earth. And if you're holding to that technology – you could lose your limb. They are like a cross between the creature from the Alien movie and an Hieronymous Bosch painting. It's creepy good!

The concept of the caravan. The main character, Strata, lives with this traveling band of "digital rescuers" who save data and technological devices before the aliens can get to it in the hopes that one day civilization can be rekindled. That idea is so, so powerful and timely when you think of efforts to suppress scientific data now. Our own digital rescuers are heroes. I know all you teachers and librarians and book lovers listening can relate when I say that the burning of the library at Alexandria stills shatters a part of my soul to think of all that knowledge lost! And I love how Nathan Hale captured that concept in this graphic novel.
In One Trick Pony, Nathan Hale has masterfully combined two seemingly disparate elements – a girl and her pony story and a fierce science fiction battle book. And it is wonderful! It releases tomorrow – Tuesday, March 14th so go treat your kid, your class, yourself with this fabulous book.
Thank You
Alright – that's it for our show this week. If you have a question about how to connect middle grade readers to books they will love or an idea about a guest we should have or a topic we should cover, I really love to hear from you. You can email me at booksbetween@gmail.com or message me on Twitter/Instagram at the handle @Books_Between.
Thank you so much for joining me this week. You can get find a transcript of this show and all of our previous episodes at AlltheWonders.com. While you are there, check out the recent post featuring 20 Books About Refugee & Immigrant Experiences. And, if you are liking the show, please help others find us too by telling a friend, sharing on social media, or leaving a rating on iTunes or Stitcher.
Thanks again and see you in two weeks!  Bye!